Gabrielle Union On 'Loving And Accepting' Daughter Zaya Wade
"With all of the love comes the hate too."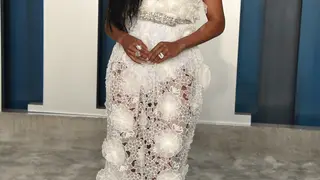 Gabrielle Union is opening up about her parenting approach with her husband Dwyane Wade and loving and accepting their beautiful family.
Gracing the latest cover of Variety the actress opened up to the magazine about their daughter Zaya, who came out as transgender earlier this year. Union says that despite all of the positivity her blended family is receiving there are still people who spew negativity.
"With all of the love comes the hate too," she says speaking to Variety. It's watching the love handle the hate that has been encouraging. We're just loving and accepting our kids, which is not revolutionary. To some people it's nuts.
The 47-year-old star of LA's Finest, continued by saying that the support their family has received shows them that they aren't alone. 
"For those people who have spoken out so publicly against our family ... I'm not standing on my own. The cavalry is arriving, and they are unafraid to stand in their truth and not be compromising when we look at right and wrong," Union said.