EXCLUSIVE: Angela Simmons Says Loving Your Body Is Hard
But she's doing a swimsuit campaign anyway.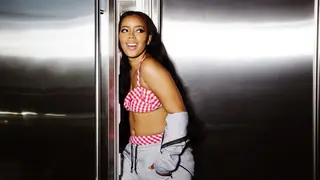 Angela Simmons is a Black millennial woman who is powerful enough to influence the masses with her #BlackGirlMagic. 
Just ask any of her 5 million Instagram followers that scroll through her timeline daily to admire her fashion, mommy moments and workout motivation. Not to mention gaining inspiration from her hustle spirit.
Although growing up in the spotlight as the daughter of Rev Run, hip-hop royalty, the young and successful entrepreneur clearly has her own story and claim to fame. 
Keeping this in mind, it didn't come as a surprise when online swimwear retailer Swimsuits For All wanted to collaborate with the 30-year-old Queen's native for their "Power Suit Campaign" — a campaign created to highlight women from all walks of life who are powerful in their own right. 
We admit, Angela Simmons is a perfect fit. 
We had the opportunity to have a real conversation with the first-time mother about why she decided to join the campaign, how she balances business and a baby along with her thoughts on post-pregnancy "Snapbacks."
BET Style: Let's talk about your transition into motherhood. How has your life changed now that you're a mom to a beautiful baby boy, Sutton Joseph?
Angela Simmons: I would say that I just became responsible for another little human. I guess you learn that you really can love someone more than you could possibly love yourself. For me, I was already a responsible person so I guess I became more responsible. I feel responsible for my son, I have a lot of things and have a lot of responsibility. I work for him, I do everything for him with him in mind. It's really amazing, having a kid is a life changer for sure. 
BET: As a new mom, has your style changed? 
Angela: Not necessarily, it's important to make sure that you're being yourself. On the days I'm going to take my son out, I would opt for sneakers so that I can run after him. For the most part, my style is always constantly evolving and changing. I think style changes with age as well. It's just always evolving.
BET: How do you balance being a mom with your busy work life? 
Angela: You just do it. I feel like you don't really have an option, you're a parent. So like I said, my son comes first. As far as work goes, I have to provide for him. It's important to make sure I'm getting up every day and I'm grinding and I'm working to make sure I'm providing for him. I just figure it out. I feel like when you have a kid you just have to figure it out, there is no can't, you just have to.
BET: Why do you feel it is important for you to participate in the "Swimsuits For All" campaign?
Angela: You know what, I thought it was a really amazing campaign. I loved what Swimsuits For All stands for. They really embrace the women's curves and body. It's for all types of bodies, for all types of women. I felt like so many incredibly strong women were a part of the campaign. I was definitely flattered to be a part of that and honored to be a part of that. 
BET: What did you admire about the women you were accompanied with?
Angela: They were just strong, beautiful, smart women with all different stories and all worked really hard for what they want in life. They were just really great people to be around. 
BET: You often are very comfortable showing your natural body on the 'gram. What do attribute to your confidence to?
Angela: I think loving yourself. Loving your body is hard, it comes with time. You know? As you grow up you're gonna see your body change: the shape and all that stuff. It can definitely be a difficult task. For me, I just learned to love myself through it all anyway, through the pregnancy, through everything. I just learned to love myself. It takes time, it takes a lot of alone time to really get to know yourself and love yourself. 
BET: Why do you feel like your bathing suit is your "power suit"?
Angela: The whole concept and campaign is that whatever you put on is your "power suit." What you put on to go to work is your "power suit." What is so powerful about these particular swimsuits is that the whole motto is they're embracing curves and who they are. It doesn't matter if you're curvy, if you don't have curves, whatever it is. That's your power stance. For me, overall, every day what you put on is your "power suit," your attitude is your "power suit," just who you are in general is your "power suit." 
BET: What are your thoughts on the pressure women experience to achieve a snapback?  
Angela: I don't think that there should be any pressure. At the end of the day, you just had a baby. If you just had a baby then you should be acquainted with your body and let your body go through proper healing time. I think there could be pressure because a lot of people talk about it but there isn't a real snapback. So, mentally you have to get back to where you want to be. So, it's not just a snapback, it's a whole mind, body and soul thing. 
BET: Why do you think that it is important to let other women know that it is OK to embrace your natural body?
Angela: I feel like the day that we are in and that the society that we're in right now, that people want results quickly and want it done quickly, so I think that it is important for people to just love where they're at and who they are at that moment. If your body is feeling strange, embrace that and love that too. It doesn't matter if you have curves or don't have curves. Whatever it is, I think it is most important to be healthy mentally more than anything. 
If you are interested in learning more about the campaign and would love to get your hands on stylish new swimsuits (a.k.a. "power suit"), then head over to Swimsuits For All.