Tyga and 21 Savage Are in An All-Out War Over Kylie Jenner
This has officially gotten messy.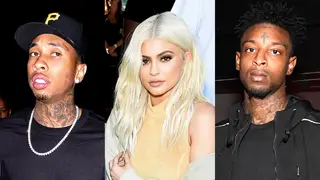 21 Savage is officially threatening Tyga and Kylie Jenner's relationship by boldly and publicly attempting to step in and claim the reality star as his own. However, the "Rack City' rapper isn't having it, turning this "I'm better for you than he is" battle into an interesting hip hop "beef."
Failing to sit back and take Savage's jabs, Tyga posted a photo of him and his lady in a customized Lambo with a caption clearly directed towards his most current hip hop nemesis.
Savage clapped back a few hours later with a photo of Kylie in a bikini, but the caption is what made this a "no respect what so ever" zone. Take a look at their budding beef, below:
The MCs took it to the mic next with Tyga spitting a few bars dissing Savage. In response, Savage called him out for his Instagram jabs during a recent show. *sigh*
All in all, it seems as Tyga got the last laugh, as Kylie seems to be unbothered by the entire situation and continues to stick by her man.
See 21 Savage in action in the video, above.