Director Calmatic Shares Why 'Baby Boy' Was Used As Inspiration For The Reimagined 'House Party' Reboot
He also details why he feels he didn't reach his goal with the movie.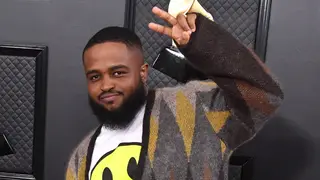 Ain't no party like House Party party cause a House Party party don't stop!
Get ready for the new school to throw the biggest event to kick off 2023, as the House Party reboot is here to turn things up a notch. Directed by Calmatic, the reimagined version will follow club promoters and best friends Damon (Tosin Cole) and Kevin (Jacob Latimore), who are going through particular situations to improve their lives.
After getting fired from their positions as house cleaners and falling on their luck, the duo decides to throw the biggest house to make ends meet, and their dreams come true at their most recent client's mansion, who is out of town. The estate is owned by none other than Lebron James.
Calmatic is the perfect person to spearhead the direction of this L.A.-based film due to being an L.A. native in his own right. The 35-year-old is making his way to stardom, gaining his first taste of fame by directing the video for Lil Nas X's hit single "Old Town Road," earning him the 2019 MTV Video Music Award for Best Direction and the 2020 Grammy Award for Best Music Video. He continued to shake Hollywood up, working with household names like Pharell, Childish Gambino, Kendrick Lamar, and Jay-Z. Outside of music videos, he's also served as a commercial director, working on ads with Target and Sprite. His commercial for TurboTax, which premiered during the 2020 Super Bowl, earned him the award for Director Of The Year from Ad Age.
Calmatic shared with BET.com how he felt he didn't "reach" his goal with House Party.
"To keep it real, I didn't reach my goal because the culture is so dense, and I wanted to tap into more sub-cultures and stories, but I did what I could with this film," he expressed.
"It was important for me to capture the real essence of South Central because it's a place that is influential — there are so many people that influence culture and art that are from here, and I wanted to show how capable those people are to influence the world. Some people may consider it the hood, but it's 20 minutes away from Hollywood Hills. Some people use the Hollywood sign as a "slap in the face" while others see it as motivation, and that's what we see in this film — two people who didn't take LA for granted."
90s cinema continues to get referenced, and the House Party director shares the one element from that time that could help today's films.
"I would say the texture — I don't know what it was about those cameras back in the day, but you could almost touch those characters and feel their essence. When the director of photography Andrew Huebscher spoke about the reference point for the film, we settled on Baby Boy because the film wasn't super cinematic and moody. Still, it felt like a disposable camera with the flash on. It wasn't a lot of color palettes but more of a raw capture of what you see outside. The film isn't heavily lit, but we kept it unfiltered."
While he couldn't reveal details on his next project, White Men Can't Jump, he shares audiences will see a lot of scenes shot in Leimert Park in Los Angeles, which is known to be the most African American dense community in the world and promises the film will have a lot more "culture."
The director shares that while he's done with reimagining cult classics in the future, if he were to go back down that route, he would love to do a live-action version of The Princess And The Frog.
Put your best fits on, grab your crew, and head to see House Party, which premiered in theaters on Friday, January 13th.