Adrienne Bailon Admits To Nasty Bathroom Habit And Twitter Is Disgusted
Girl, what?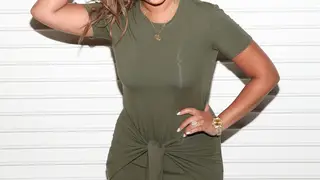 The ladies of The Real are known for remaining unabashedly authentic to their show's title and, recently, one of the ladies proved this by making a jarring confession about her bathroom habits, which seemed to take their viewers by surprise.
Get more Adrienne news with BET Breaks, above.
During a segment (which was taped a few weeks ago but was just released on their YouTube channel) where they discussed the apparently taboo topic of washing one's hands after using the restroom, co-host Adrienne Bailon revealed that she dodges the soap and water altogether after she takes care of business.
"Not at home. What did I touch? It's my house," she said. "The toilet paper touches my behind. I don't touch my behind. Not this skin."
The former 3LW songstress then reminded her co-hosts and viewers that she "never gets sick" because she likes germs and "germs go to work," making her immune system tough as nails.
Take a look at the clip, below:
What do you say to this? Do you follow Adrienne's philosophy or not?
Meanwhile, Twitter seemed to be utterly disgusted by Adrienne's brave confession. See what they had to say, below: