Not Laughing: Boston Herald Publishes Racist Obama-Watermelon Cartoon
A political cartoon about White House security breaches is found offensive.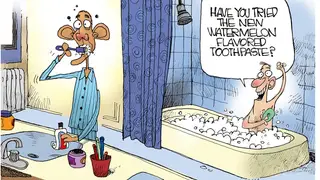 The Boston Herald newspaper published a cartoon Wednesday that was meant to poke fun at a recent security breach at the White House that enabled Army veteran Omar J. Gonzalez to unlawfully enter the building armed with a knife. But a lot of people aren't laughing and it has stirred more controversy than mirth.

The cartoon depicts President Obama, standing in front of a sink brushing his teeth when he is surprised by an intruder in the bathtub behind him.
"Have you tried the new watermelon flavored toothpaste?" the guy asks as he scrubs himself in a bubble bath.
The caption reads, "White House Invader Got Farther Than Originally Thought."
But based on reactions, the cartoon is not as funny as the Herald's editors originally thought.
"Would it have been so bad to just say 'peppermint' or 'bubblegum'?" one reader asked on Twitter.
Cartoonist Jerry Holbert, speaking on Boston Herald Radio, apologized for the misstep "to anyone I offended who was hurt by the cartoon," which he said, "was not his intention." He also said that he came up with the idea for the flavor after seeing "Kids Colgate watermelon flavor" toothpaste at home and claimed to be "completely naive or innocent to any racial connotations."
His explanation may ring false with many Americans, especially Blacks, who will find it difficult that someone described as a "veteran" in the industry is clueless about the long-held stereotype and the need to tread lightly when lampooning the nation's first African-American president.
The newspaper also issued an apology. "As Jerry Holbert discussed on Boston Herald Radio this morning, his cartoon satirizing the U.S. Secret Service breach at the White House has offended some people and to them we apologize," editors said in a statement. "His choice of imagery was absolutely not meant to be hurtful. We stand by Jerry, who is a veteran cartoonist with the utmost integrity."
BET Politics - Your source for the latest news, photos and videos illuminating key issues and personalities in African-American political life, plus commentary from some of our liveliest voices. Click here to subscribe to our newsletter.