EXCLUSIVE: Lil Mama Shares the Story Behind Her Makeover
She ditched the tomboy look.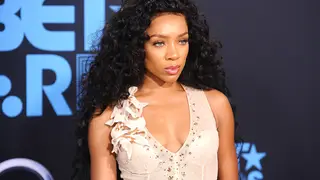 Lil Mama has recently been going through a major rebranding of her image and everyone is taking notice! You can't help but give praise to her fly new 'fits when hitting the red carpets, posing for the 'gram and recent photoshoots, but what's behind the change? 
Niatia Kirkland. Not familiar with the name? It's Lil Mama's birth name — and apparently her grown and sexy side!
At 27 years old, Niatia was ready to make a transition when it came to her style and after consulting with her new team — creative directors and stylists Tyler Mann and Michael Mann, along with art director Tyren Redd — Niatia could only refer to the six-month collaboration thus far as "love at first sight." 
Take a look at her latest style:
BET.com caught up with Niatia and her team exclusively to ask them what inspired the dynamic new look and why she felt the need for a style change.
"I definitely wanted to find a style that defined my personality and who I am at heart, as well as myself as an entertainer and as a musician," shared Niatia. "I think I needed to work with a cohesive team and someone that just gelled well with my style. When I met Michael and Tyler it was really love at first sight! The clothing that he pulled was glamorous and classy pieces that I already admired in fashion. Our collaboration was definitely not a forced thing."
The beauty of this client and stylist relationship was that the love was mutual. "Niatia, beyond being a good client, she is an amazing person and it really helps with the relationship," says stylist Michael Mann. "Genuine love between you and your client can be a hard thing to find."
Part of the inspiration behind Niatia's new style is glamorous women like Diana Ross and Donna Summer. "Natia is fabulous on the inside and in her artistry, which is why she is able to embody her style so well," Michael shares. "That Diana Ross and Donna Summer fabulous is who she is all day every day. We are all about giving references to those strong and iconic Black women in entertainment because it is still a fresh and new look for Niatia who will also be an icon for fashion, music and film."
For Niatia, the change has been quite different then what she is use to when it comes to fashion. "Changing my fresh kicks for stilettos is like a Cinderella story," Niatia explains. "Growing up, I've always played in my mother's shoes, jewelry and perfume — sometimes even her wigs," she chuckles.
"Having five brothers and being heavily influenced by hip-hop, I was really a tomboy and I was trying to figure out my style. I was so creative that sometimes I came off like I was a clown," she said, cringing at the thought. "I would wear so many colors and all these different styles and shapes, I was literally dressed like a doll. Along the way, I think I started to find sensibility and became comfortable in my sexuality in public as opposed to just dressing really nice for dates."
So what does she wear on dates? "If I went on a date with a guy, I would never dress the way I used to dress. I would put on a simple dress and heels. I feel like I am finally comfortable with that part of myself and showing it in front of the world," she expresses.
Now that the world has taken notice to the young woman that Niatia has become, many have mentioned that she looks kind of sexy. "Letting the people see how beautiful I am is a breath of fresh air because it makes me feel — like me! Free, sexy and unapologetic about it."  
Michael has his thoughts on Niatia's sexiness. "Sexy, a lot of times, is so in your face and direct. We want to pick one area and show them Niatia's legs or show her décolletage. Certain little bits of skin are so much sexier than giving it to you all at once," shares Michael. "Niatia is a role model and she wants her fans to see that you don't have to be that person in the industry to be successful."  
If you have expressed your love for her new look, then know that Niatia is listening to you. She has received many positive reviews on her new style change via social media and she adores the love that followers have been giving her. "Michael told me when I changed my hair darker and wore my hair curly for an event that the fans loved my look. They left comments like, 'We love when you wear your hair natural.'
"Michael said, 'Mama, you should listen to the fans! Give them what they like. You have people rooting on you to win and they see you looking beautiful. Listen to it because they [the fans] have your best interest at heart,'" Niatia reflects. "I think that was the best advice I ever received. I am truly blessed."
When asked what more they had up their fashionable sleeves, they said in unison, "Were just getting started!"
Keep stylin' on 'em! You definitely caught our attention Lil Mama — we mean Niatia!