Oh No: Orlando Brown Was Arrested In His Underwear By Bounty Hunters
The former Disney child star hit a new low.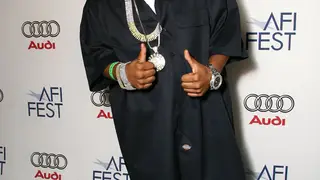 Orlando Brown's seen better days. Since his stint as a co-star on That's So Raven, he's had a slew of legal issues that have plagued him.
TMZ is now reporting that the former Disney star was captured by bounty hunters at a home in Las Vegas and arrested. Apparently, there was an outstanding warrant on him.
According to video obtained by the celeb news site, Brown was hiding in a closet on the second floor of the residence when he was found by bounty hunters during an early morning raid. He was wearing boxer shorts, a T-shirt and was barefoot when they cuffed him.
The bounty hunter, whose name is Lucky, said he had legal paperwork and a warrant to enter the property to look for Brown. It hasn't been confirmed publicly as to what the arrest warrant was for. We assume it's for skipping out on a court date from March stemming from a domestic violence incident where he allegedly struck his girlfriend last year.