Police Crash R. Kelly's Birthday Party At Chicago Nightclub Over Arrest Warrant
The cops were called, and that didn't change R. Kelly's foul commentary.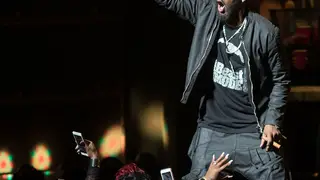 He did turn up on his Chi-Town home turf at V75 Chicago nightclub however, where he partied with fans into the wee hours of Thursday morning (January 9) for a late birthday celebration. Apparently, not everyone in attendance was there to raise the roof with him though, but instead, TMZ reports, they raised an alert for Chicago police to crash the party in the name of Kelly's arrest.
A few videos from the party surfaced late last night, showing Kelly crooning out a capella 'Bump N' Grind' lyrics for fans

Several club goers crowd around Kelly with their cellphones glued to their hands as they sing along and record his solo performance.

Another video, obtained by TMZ shows him puffing away at what appears to be a cigar as he continues blasting out other hits among the crowd. The site reports that all went well until police said an unnamed caller phoned 911 to report that there was an arrest warrant out for Kelly, prompting police to head to the scene.

In tweets revealing the status of the 911 call…

It appears that the caller gave Kelly's location, and Chicago PD were dispatched to the club. TMZ reports that they even made contact with Kelly, but no cuffs were slapped on him after they learned that an arrest warrant didn't exist.

"Aye, y'all motherf**kers don't know—it's my motherf**king birthday and I don't give a f**k about what's going on tonight!" Kelly is heard shouting to fans over a mic in a separate video. It doesn't take a rocket scientist to know exactly what he was referring to with the statement, but it's not clear whether the video was recorded before or after police stormed the scene.

See his commentary on the controversy after being spotted for the first time since the release of Surviving R. Kelly below.