Obama Meets Teen Whose Words Inspire $1 Million for His School
Vidal Chastanet says his principal teaches students that they all matter.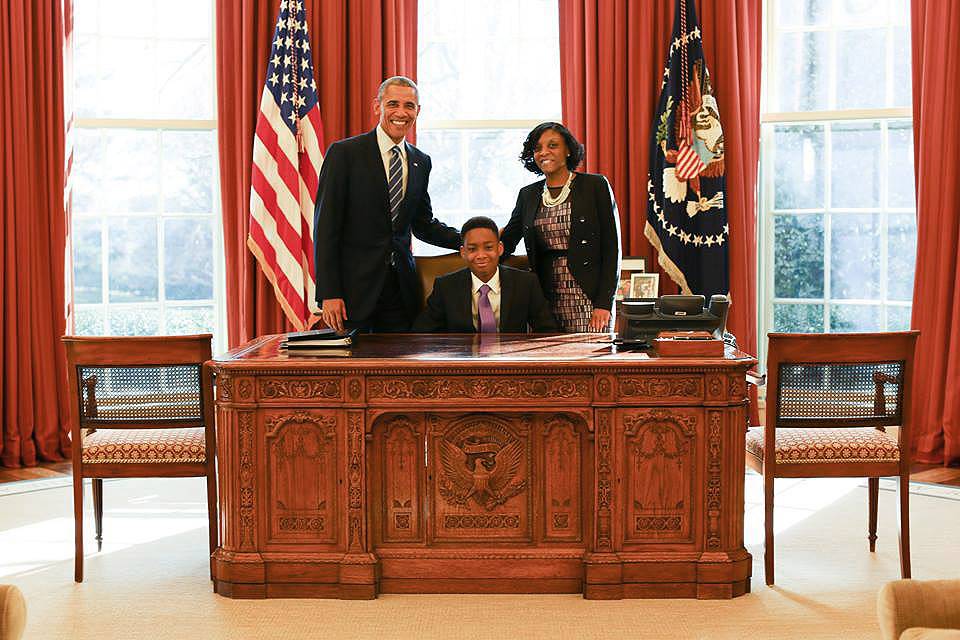 It was a chance encounter near a Brooklyn subway. While walking home from a deli, Vidal Chastanet, 13, was asked which person has influenced him most by photographer Brandon Stanton for Stanton's blog, Humans of New York. Vidal named Nadia Lopez, the principal at Mott Hall Bridges Academy, which is located in one of New York's toughest neighborhoods.
"When we get in trouble, she doesn't suspend us," Vidal told Stanton. "She calls us to her office and explains to us how society was built down around us. And she tells us that each time somebody fails out of school, a new jail cell gets built. And one time she made every student stand up, one at a time, and she told each one of us that we matter."
The post went viral, garnering one million likes and shares on social media. It also inspired Stanton to start a national fundraising campaign on Indiegogo that, remarkably, has raised more than $1 million for the students to visit Harvard University and support summer and scholarship programs.
"This is a neighborhood that doesn't necessarily expect much from our children, so at Mott Hall Bridges Academy we set our expectations very high" explains Lopez on the fundraising site. "I want my scholars to know that even if they live in a housing project, they are part of a royal lineage going back to great African kings and queens. They belong to a group of individuals who invented astronomy and math. And they belong to a group of individuals who have endured so much history and still overcome. When you tell people you're from Brownsville, their face cringes up. But there are children here that need to know that they are expected to succeed."
On Feb. 5, Vidal, Lopez and Stanton met with President Obama at the White House to share their story.
"You don't do things alone. Nobody does things alone. Everybody always needs support. For a young man like you, you should never be too afraid or too shy to look for people who can encourage you or mentor you," the president told Vidal. "There are a lot of people out there who want to provide advice and support to people who are trying to do the right thing. So you'll have a lot of people helping you. Just always remember to be open to help. Never think that you know everything. And always be ready to listen."
BET Politics - Your source for the latest news, photos and videos illuminating key issues and personalities in African-American political life, plus commentary from some of our liveliest voices. Click here to subscribe to our newsletter. 
(Photo: The White House via Twitter)