Princess Love Claps Back At Moniece Slaughter's Pregnancy Accusations – And Of Course She Responds
Here we go.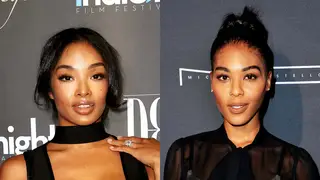 Can't a woman be pregnant in peace?
Love & Hip Hop's Moniece Slaughter is claiming that Brandy is the surrogate for Princess Love and Ray J's unborn child. Well, Miss Princess has had enough — the foolishness stops now.
See how the pregnancy news all started with BET Breaks above.
Last week, Moniece Slaughter wrote on social media, "Yes. Brandy is carrying the baby for them. Her hormones must be raging because aside from her already being off her rocker, she's losing her mind. Send my mom one more text that you claim you sent to me and I guess it's a fair fade since she's always publicly denying her pregnancy." Now, Princess has shut it all down by posting a video of her sonogram, see below:
She also made another post, which is clearly directed to Moniece.
Moniece is backtracking but blaming her lies on Princess Love making comments about her baby's father and son. See the post below:
Rule number one for a proper clapback: it has to be true!