Leonard 'Raheem' Taylor Is Blocked From Having A Spiritual Advisor At His Scheduled Execution
The Missouri man has long maintained his innocence in this controversial death penalty case.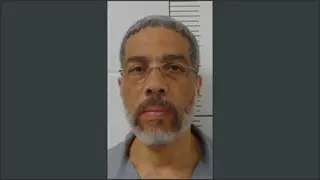 A Missouri man is set to be executed Tuesday (Feb. 7) for a quadruple murder, despite many supporters insisting his innocence. He has now been denied clemency and the ability to have his spiritual advisor present at the time of his death.

On Monday (Feb. 6) Gov. Mike Parson denied clemency for Leonard "Raheem" Taylor, 58, clearing the way for him to be put to death by lethal injection after Taylor was convicted for the 2004 slaying of his girlfriend and her three children. In the latest development, the Missouri Attorney General's office barred Taylor's spiritual advisor and any other requested guests he wanted nearby him at the death chamber in Bonne Terre, Mo.

In a statement, the group Missourians To Abolish The Death Penalty said Taylor was told by his caseworker that the paperwork was intended for family to attend, not his legal team. Furthermore, they say his spiritual advisor had received permission to attend from the warden at Potosi Correctional Center, where Taylor had been housed before being transferred on Saturday (Feb. 4).

To execute Taylor "without any witnesses on his behalf solidifies the denial of his rights, which have been rife throughout his trial, appeals, and in seeking post-conviction relief," the statement says.

Gov. Parson released a statement of his own on Monday insisting that Taylor fled to California after killing the mother and children and that a witness saw him discard a firearm, something strongly disputed in the appeals. Parson doubled down on Taylor's guilt, declaring that he would be executed today.

"Despite his self-serving claim of innocence, the facts of his guilt in this gruesome quadruple homicide remain," said Parsons. The State of Missouri will carry out Taylor's sentences according to the Court's order and deliver justice for the four innocent lives he stole."
According to The Kansas City Star, on Nov. 26, 2004, Taylor says that he flew to Los Angeles, California to meet his daughter. Eight days later, the bodies of Angela Rowe, 28, her daughters Alexus Conley, 10; and AcQreya Conley, 6; and son Tyrese Conley, 5, were found shot to death in the home they shared with Taylor.

Ultimately, the murder weapon was never found there and there were no eyewitnesses. Autopsies revealed Rowe and her children were killed two to three days before the bodies were found. At trial, a medical examiner from St. Louis County claimed based on the temperature in the home, the mother and her children were murdered two to three weeks before the bodies were found.

Taylor and his attorneys have been fighting this claim from the medical examiner for years. An affidavit signed by forensic pathologist Jane Turner, said rigor mortis had set in, which wouldn't be present after seven days when the victims were discovered. This suggests Taylor could not have committed the crimes because he had left for California eight days prior. 
Also, an appeal contends that Taylor did, in fact, leave for California on Nov. 26, confirmed by flight information from Southwest Airlines, but the bodies were discovered on December 3. Taylor's daughter, then 13, said in a sworn statement that he called Rowe from their location in California. But at trial, a medical examiner changed the scope of possibility of the killings, saying they could, in fact, have taken place before Taylor traveled.

Prosecutors have relied heavily on Perry Taylor, Leonard Taylor's brother (who died in 2015), who said that Taylor confessed to him that he killed Angela Rowe and her children. However, Perry recanted at the trial and Kent Gipson, Taylor's lawyer, said police threatened Perry with prison time if he didn't say his brother was the killer.


Nimrod Chapel Jr., a civil rights attorney and president of the Missouri Conference of the NAACP voiced his frustration with the decision to move forward with the execution while denying Taylor his requested witnesses.

"Little did we know in 2023, that even on the eve of an execution, the condemned will be denied the presence of a spiritual advisor - the last chance to repent, receive God, or receive a prayer for the innocent," said Chapel in a statement. Never mind the fact that Mr. Taylor has maintained his innocence from day one…Never mind the fact that even the prosecutors asked for his stay in the case to look at the evidence. Never mind the fact that each of us knows that justice must be fair to be called Justice at all."