Watch Jordan Peele And President Obama Drag Trump In This Hilarious Sketch
This is required viewing.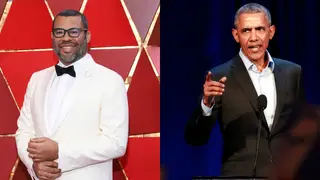 The genius of Jordan Peele is unmatched. In fact, pair him with the impeccable and commanding presence of President Obama — well, President "Obama" — and all you can do is witness magic flourish.
Confused as to what we're talking about, here? Well, the Get Out director teamed up with his brother-in-law to produce a public service announcement made by the former United States president in a way you've likely never seen and will likely never forget.
The overarching message of the clip is simple: Don't believe everything you see or read on the internet.
"It may sound basic, but how we move forward in the age of information is going to be the difference between whether we survive or whether we become some kind of f****d-up dystopia," Obama said in the video before adding that Black Panther villain Killmonger was "right" about his plan for world domination, among other things.
In fact, he went on to say that Ben Carson "is in the Sunken Place" and that current POTUS, Donald Trump, is a "dips**t."
So, after reading this, you're probably sitting there with your mouth agape and jaw on the floor, pondering, "Did President Obama really just swear in a nationally broadcast PSA? 
Well, yes — and no. Actually, the "Obama" that is seen in the video is Peele, himself, doing his well-known interpretation of the former president. The process is known widely as a deepfake, and it allows anyone to create a convincing simulation of a human subject.
Now that you're privy to this hilarious tidbit, take a look at the masterpiece, below: