WATCH! Jeannie Mai Says She Struggled With An Eating Disorder For 12 Years
"Now, I've totally got a new perspective on body."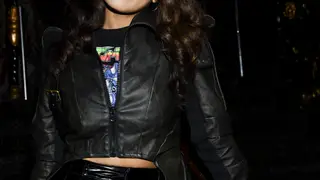 Jeannie Mai has been open about her healthy weight gain, her divorce, and just about everything else going on in her life. Now she's admitting that she suffered from an eating disorder in which she consistently weighed 100 pounds.
The Real co-host is spilling all the tea on her new, single life with her series, Hello Hunnay With Jeannie Mai. After the split from her husband of 10 years, Freddy Harteis, Jeannie Mai has shared her journey to finding herself and what she wants out of her new life.
In the 10-minute clip, Jeannie shares how health and wellness are a big part of her life. But it wasn't always like that.
"I didn't realize that I was low key abusing myself." Jeannie says. "The idea of being skinny became something that was most appealing to me. Even if you watch The Real from season one to season four, I was always 100 pounds. I started to really work hard to stay petite. And to not gain weight. And to stay sample size. I didn't realize that until I saw a picture of myself where my knees were really pointy and my shoulders were pointy."
As someone who sees herself as a strong woman, Jeannie didn't like that she looked so weak when looking at pictures of herself. So she decided to take control of her body and own up to having an eating disorder with a little help and advice from an unnamed friend.  
"I was talking to my friend about it and she said, 'Jeannie, you know that you could change the way that you look. You just don't have anything to work with. Girl, you barely eat.' Her calling me out like that was way too real. And I realized that I had an eating disorder in which I controlled myself to a point that I would not let myself enjoy what I wanted to eat or eat what I needed to eat, all to stay a certain size," Jeannie says, admitting that she even used to pretend to eat when asked to dinner.
Jeannie's friend suggested that she start eating better and taking care of her body by consuming nutritious food like carbs to help her burn energy. Because of her friend's suggestions, Jeannie says she gained 20 pounds. 
Jeannie now has a whole new outlook on life and believes that working out reminds her how much sexier you feel when your body is strong.
"I love how it feels to go into the gym, crank on my favorite music, and literally sweat out all of the things that stress me out, that worry me, that make me sad, that make me feel like I have self-shame, that weighs down on me. And I always walk out feeling lighter and stronger."
We are totally here for self-improvement and can't wait to see what else Jeannie's willing to share with the world about her personal health journey!
Watch the rest of Jeannie Mai's new YouTube series below!