Show Up & Show Out!: Fashion Trends To Make You The Life Of The Party In 2023
Style and trend expert Charell Star also shared a fashion faux pas to totally avoid in 2023.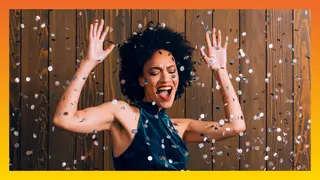 Is your calendar already filling up with events, but you have no idea what to wear in the new year? Don't panic! We chatted with a professional to get some insider details on the trends that will have your friends and family members oohing and ahhing over your fashion sense.
According to style and trend expert Charell Star, there are plenty of ways to show up and show out while attending parties in 2023—especially if you are willing to step outside your comfort zone.
"Most people will go for the classic looks that include sequins or crushed velvet cocktail attire," Star tells BET.com before listing other trends she predicts will be trendy this year. "You will also see hues of rich black, blue, or white."
She adds don't be surprised to spot classic silhouettes in trending colors like "Barbiecore Pink" and "Viva Magenta."
So, how do you stand out amongst others? Star says if you really want to make a grand entrance, try sheer.
"You don't have to opt into a fully transparent dress or top, but you can pair a see-through dress top with a vibrant corset or sheer skirt layered over sparkly shorts or pants," she explained.
As for fashion faux pas to totally avoid in 2023, Star says you should avoid anything micro. "Totally skip the micromini skirt or dress because it is very limiting," she shares. "You can't do much moving in them, so you limit your ability to have fun for the evening."
Need a little motivation? Check out some of our favorite looks for the new year.
Editor's Note: This story has been edited and condensed for clarity.