Rihanna's Super Bowl Halftime Show Breaks Guinness World Record
She broke Katy Perry's 2015 Super Bowl halftime show record of 121 million viewers.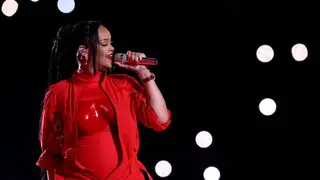 Rihanna's Super Bowl LVII performance set the Guinness World Record for the most-watched halftime show in history.
Her highly-anticipated performance signaled a comeback after a more than five-year break; the viewing audience of 121.017 million viewers beat Katy Perry's record of 121 million for her halftime show at 2015's Super Bowl XLIX.
The show became one of her most unforgettable performances, as she sang while suspended above the field, rubbing her growing baby bump. She later welcomed her second child Riot Rose Mayers on Aug. 1 with her partner A$AP Rocky.
According to Rolling Out, Nielsen Holdings initially reported that Rihanna's performance attracted only 118.7 million viewers.
"However, the data-collection company was forced to adjust the numbers, citing "irregularities" in the way the audience was measured back in February," the article says.
This means the Barbadian icon's halftime show attracted approximately 6 million more viewers than any Super Bowl game. Guinness World Records noted that the 2023 Super Bowl drew 115.1 million viewers, surpassing the 2015 record of 114.442 million which was adjusted for irregularities.
BadGalRiRi adds this new accomplishment to her stack of Guinness records, including most consecutive years of UK No.1 singles, richest musician (female), most cumulative weeks on UK singles chart in a calendar year and most digital No. 1 singles in the U.S."
Forbes reported that Rihanna's music saw a 211 percent increase in on-demand streams and a 390 percent increase in digital song sales following the Super Bowl performance. Just last week, the singer made waves when Loewe released a "special edition" red cargo jumpsuit inspired by her Super Bowl LVII halftime show ensemble – it sold out within a day.
There may be new Rihanna music on the way: Per The Mirror, she inked a roughly $39 million contract with Live Nation for her upcoming engagements and currently has two albums worth of new material to drop.