A$AP Rocky Accused Of Taking Shots At Travis Scott In New Unreleased Songs
The two rappers' connection to Rihanna was front and center.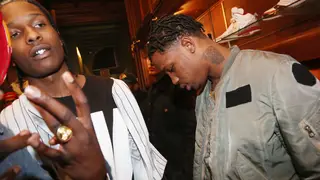 Fans believe that A$AP Rocky dissed Travis Scott over the weekend at Rolling Loud Miami.
On Sunday (July 23), the 34-year-old Harlem rapper previewed three unreleased songs from his upcoming album Don't Be Dumb during his headlining set at the annual festival. In a video shared via social media, he rapped, "First you stole my flow, so I stole your b***h / Then you stole my style, I need at least like 10 percent / All the disrespect, I hope you take offense."
Many believe that Rocky aimed at Scott based on the second part of the first bar since both have had a relationship with RiRi. Rocky and Rihanna have been together for years, with their romantic link confirmed in November 2020.
Scott was first linked to Rihanna in 2015 when they were spotted out on numerous occasions together. He's also credited as a producer on songs like "B***h Better Have My Money" and "Woo."