A$AP Rocky Fuels Rihanna Marriage Rumors on His Latest Single: 'My Wife Is Erotic'
The rapper and singer are expecting their second child together.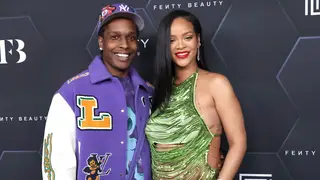 A$AP Rocky and Rihanna continue to fuel rumors that they got married before their second child's birth.
According to Insider, the lyric appears on a new song with Pharrell Williams, "RIOT (Rowdy Pipe'n)," where he says, "My wife is erotic, I'm smokin' exotic."
The rumors have been swirling since Rocky dropped the video for his single "D.M.B."
In the video, Rocky is seen wearing a gold grill that reads "Marry me?" to which Rihanna responds with a matching grill that says, "I do," before they walk down the aisle together.
Both songs are from Rocky's forthcoming album, Don't Be Dumb.
Commentators speculated that the couple wore a bridal-inspired ensemble for this year's MET Gala. Rihanna captioned. a photo from the event on her Instagram, "shout outz 2 the bridal party….here come de bride."
The rapper also referred to Rihanna as his wife during a performance at the Cannes Lion Festival last month, saying, ""I'd like to dedicate this song to my beautiful wife in the moth*rf**ing building!" Rocky, born Rakim Mayers, told the crowd, according to Page Six.
The "Diamonds" singer broke headlines during her Super Bowl Halftime performance in Phoenix earlier this year when she revealed her growing baby bump.
Rocky proudly watched from the field during that performance as she rocked the stage.
After announcing her second pregnancy, Rihanna told British Vogue, "We're best friends with a baby," she said. "We have to be on the same page, but we've always kind of had that in our relationship. Everything changes when you have a baby but I wouldn't say it's done anything but made us closer."