These Caribbean Writers Deserve Their Flowers
While the islands these authors originate from may seem small, their talents are massive!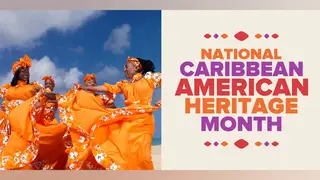 As someone from the Caribbean and a writer, when I write, I don't just write for me; I write for my ancestors whose words didn't go beyond the island that birthed their wisdom. Writing allows our Caribbean brothers and sisters to feel heard, seen, and validated. Therefore, we must continue to support writers these authors. To that end, here five writers from the West Indies that you should add their books to your reading list. 
Celeste Mohammad

Celeste Mohammad is a legendary Trinidadian writer. She started as a lawyer but is a natural born story teller. Celeste has an MFA in Creative Writing and strives to tell stories that dismiss all myths about island life and people. Her book "Pleasant View" won the Boca Prize for best Caribbean literature.

Myriam J A Chancy

Myriam J A Chancy is a Haitian writer in Los Angeles, California. She's deeply passionate about writing stories about her home country. In 2003, Myriam wrote a novel called "The Spirit Of Haiti," which follows the lives of four young characters that witnessed military-ruled Haiti during the 1990s. According to her website, the book has sold thousands of copies and was recently reprinted for its 20th anniversary.

Edward Baugh

Writing can come in various forms of expression, and one of those expressions is poetry. Famous Jamaican poet Edward Baugh is a scholar and Nobel-winning poet whose words have touched many hearts. The unique historical circumstances and cultural life in Jamaica have inspired his writings. He's also an editorial board member of the Small Axe and Journal Of West Indian Literature Association, bringing a vital voice to Caribbean poetry and culture. 

Velma Pollard

Since 1994, Velma Pollard has been pumping out books that reflect Jamaican culture. She's considered a poet and a novelist, writing books like "Shame Trees Don't Grow Here" and "Caribbean Literature Discourse: Voice and Culture Identity." Both books have received outstanding recognition for Pollard's powerful words on Caribbean culture and excellence. Velma has published five poetry collections and has been honored in several journals.

Marion Bethel

Marion Bethel wears many hats. This Bahamian writer is also a lawyer, filmmaker, human and gender rights activist, and writer. Seriously, how does sis have the time? We don't know! But what we do know is that Bethel is an incredible writer. She is best known for her incredible poems and award-winning films on the women's suffrage movement in the Bahamas.