Saying Goodbye: Helping Kids Recognize And Talk About Grief
Learn healthy ways on how to get children to understand death, stress less and open up about what they are feeling.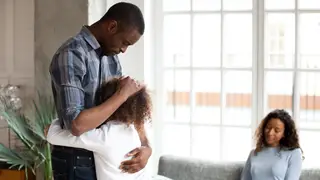 It is pretty hard not to feel overwhelmed and sad right now. There is so much tragedy globally, nationally, and locally to process. Events such as the murder of 10 Black people at Tops Market in Buffalo on May 14 during a racist mass shooting, followed by the fatal shooting and killing of 19 children and two teachers at the Robb Elementary in Uvalde, Texas— the deadliest mass shooting in the United States so far this year are enough to leave anyone feeling numb. Still, as we try to wrap our heads around those two horrific events in the background of an ongoing war in Ukraine, the subtle resurgence of COVID-19, which has taken over a million American lives, the new player on the scene, Monkeypox and the ever present issues of just being Black in America.
The fact is it would be hard not to feel stressed, worried or sad at this point. While adults struggle to come to terms with all that is taking place, children can have a more challenging time coping with what's happening in the news and when they personally feel the loss of a loved one. Kids, especially, tend to lack an ability to verbalize what they are feeling.
Michael A. Lindsey, Ph.D., MSW, MPH, executive director of the NYU McSilver Institute for Poverty Policy and Research and incoming dean of the NYU Silver School of Social Work, who is an expert in the mental health of children and adolescents spoke to BET.com about how to recognize and talk about grief with your kids and help them find positive ways to process it.
BET.com: Can you start by explaining the difference between sadness and grief?
Dr. Lindsey: Sadness can lead to a deeper level of grief while grief is informed or influenced by a pretty significant loss in one's life or an adjustment reflecting something that has been lost. [It works] on a continuum. You start with sadness, which turns into grief, which might go into a depression where you feel incredibly debilitated.
BET.com: In what ways does depression impact how we function?
Dr. Lindsey: Depression impacts your ability to sleep comfortably or sleep through the night, whether you're eating enough or sufficiently or not eating at all. We also know that depression looks different for adults and children. For example, children tend to express depression symptoms with irritability, or anger impulses, as opposed to adults who might express that to some degree but typically, you're going to see a deep sadness or not wanting to be bothered. They can also isolate themselves along with not wanting to sleep or not sleeping well.
BET.com: How does grief show itself in kids?
Dr. Lindsey: Since kids don't always have the language to express what they are feeling, they're going to act out their behaviors, so you're going to see some behavioral adjustment. There could be some anger, aggression, or hyperactivity. For example, if a kid's family is going through a divorce, they're not necessarily talking about it, but you can see the output in terms of their behaviors. They may be the type who was usually doing well in school but aren't anymore.
BET.com: How do you teach a child to handle grief in the best way possible?
Dr. Lindsey: Have them touch base with their feelings and then help them talk it out. Give them the space they need to have those conversations. It is important to ask them how they're feeling and not how they're doing.
BET.com: Is there a conversation starter that you would suggest?
Dr. Lindsey: I would say acknowledge what has happened. You can say things like, 'I realize that you may have some feelings about what has happened, and I wondered if you share with me how you are feeling right now? Or sometimes when we go through difficult things, we feel angry; how do you feel?'
BET.com: Is there a timeframe for healthy grieving? And how do we recognize when it has gone beyond that?
Dr. Lindsey: That is relative to the individual, but you can judge it based on whether the person can function. Are they struggling with work or interactions with people? And for kids, are they struggling with school or peer relations? So when you demonstratively see a change in function in someone, that is a telltale sign that further support might be warranted.
BET.com: Does grief ever really truly go away?
Dr. Lindsey: Perhaps not. Personally, I still grieve for my brother who I lost in 1988. It was so long ago, but I was thinking about him yesterday. I think there's a point where it transitions from sadness to having fond thoughts of that person. When I thought of my brother, it was about something funny, and I laughed, but five years after his death, that was something that I could not do. So, over time it evolves, and it depends on the individual as to how long that will take.
BET.com: What are some of the ways to deal with grief?
Dr. Lindsey: You can journal about how you feel and write a letter to the person you lost about how you feel including fun, fond memories. Also, I believe in the power of meditation and breathing [exercises] are important. Taking five minutes to do those things can change your physiological disposition for that day. I'd also recommend talk therapy. It's good to talk to someone about the challenges related to grief.
BET.com: Would you suggest talk therapy (or psychotherapy, a term for treatment techniques used by licensed therapists to help identify and change emotions, thoughts, and behavior that are problematic), used for kids? And what would you recommend for those who aren't old enough or ready to journal?
Dr. Lindsey: Yes, to talk therapy for kids and for those that are 3 years old to about 7-years old, there is play therapy that is developmentally appropriate. We might play with toys and act out scenarios that may get them to express how they feel. You can also ask them to draw a picture of their family or of an activity. Through creating those images, you can sometimes tell how well they are doing. You can use it to ask them questions by asking what the picture means and if there is someone missing from it.
For teens, we play card games, Uno, Checkers, something to establish a rapport with them, and in that context, you can ask them how they are doing. You can ask them about school or how they feel about the loss. You can find all kinds of strategies and tools for folks around mental health issues on our website.
For more information here is a list of useful resources at the McSilver Institute.
If you or someone you know is experiencing a crisis, contact the National Suicide Prevention Lifeline at 1-800-273-8255 (Español: 1-888-628-9454; Deaf/Hard of Hearing: 1-800-799-4889) or the Crisis Text Line by texting HOME to 741741.
Editor's note: This interview has been edited for length and clarity.