Buffalo Shooter Kicked Out Of Grocery Store Day Before Racist Massacre
White supremacist Payton Gendron 'had plans to continue his attack,' a Buffalo law enforcement official says.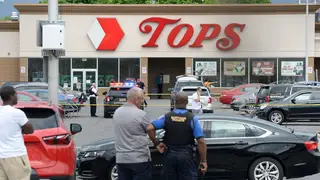 Accused mass shooter Payton Gendron visited the Tops Friendly Markets supermarket in Buffalo one day before he allegedly shot 13 people on May 14 and would have continued his rampage if he wasn't stopped, ABC News reports.
Authorities say the shooting victims ranged in age from 20 to 86. Eleven of the victims were Black, in what investigators believe was a racially motivated attack. All 10 people who died were African Americans. They include a retired Buffalo Police Department officer who was a security guard at the supermarket and was hailed a "hero."
Investigators believe Gendron, 18, who lived in Conklin, N.Y., arrived in Buffalo on Friday (May 13). They are uncertain where he spent the night.
Shonnell Harris Teague, an operations manager at Tops, told ABC News that she saw Gendron sitting on a bench outside the store for several hours on Friday afternoon. Wearing a camper backpack and dressed in a camouflage outfit, he walked into the supermarket and harassed customers. Teague asked him to leave, which he did peacefully. But he returned the next day.
"I see him with his gear on and his gun and how it was all strapped on. ... I seen all the other bodies on the ground. ... It was just a nightmare," she said.
Aaron Salter Jr., a Black security guard, exchanged gunfire with Gendron in the supermarket. The retired police officer shot Gendron, but he was wearing body armor that the ex-cop's bullet couldn't pierce. Gendron returned fire, killing Salter.
"Today is a shock. I'm pretty sure he saved some lives today. He's a hero," his son, Aaron Salter III, told The Daily Beast. 
Evidence suggests that Gendron planned to continue his shooting spree if he wasn't arrested. "We have uncovered information that if he escaped the [Tops] supermarket, he had plans to continue his attack. He had plans to continue driving down Jefferson Ave. to shoot more Black people ... possibly go to another store [or] location," Buffalo Police Commissioner Joseph Gramaglia told ABC News.
Investigators say Gendron researched the local demographics in Buffalo and chose that supermarket to kill as many Black people as possible, the Associated Press reports. He had repeatedly visited online sites that promoted white supremacist ideologies and race-based conspiracy theories.
Authorities believe Gendron was self-radicalizing when the pandemic began, spending many hours consuming hate posts on social media, ABC News reports, citing a senior law enforcement source.
Erie County District Attorney John Flynn charged Gendron on May 14 with first-degree murder. The accused shooter pleaded not guilty at his arraignment and is due back in court on May 19.