Attorney Calls For Federal Investigation Into Georgia Jail Guard Beatings Of Inmates
There's a systemic pattern of abuse at the Camden County jail, the civil rights lawyer alleges.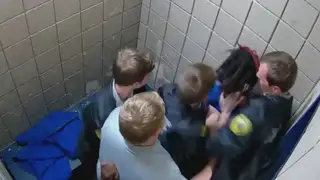 A civil rights lawyer demands a federal investigation of a Georgia county jail where guards were caught on surveillance video beating two of his clients.
Attorney Harry Daniels said Wednesday (May 31) at a press conference that he believes there's a systemic pattern of abuse at the Camden County jail in which detainees are beaten "indiscriminately, Associated Press reports."
"We're asking again that the Department of Justice come in and look into this department. It's time to hold someone accountable," Timothy Bessent, president of the Camden County NAACP, said at the press conference.
Security cameras at the jail recorded several guards punching and kicking Jarrett Hobbs, a 41-year-old Black man, in his cell after he was taken into custody for a traffic violation and drug possession charges on Sept. 3, 2022.
Release of the video prompted an internal sheriff's department investigation that led to the arrest and termination of three White deputies involved in the beating, Atlanta station WAGA reported. The deputies had also wrongly filed assault, battery and obstruction of justice charges against Hobbs after the beating, but the Glynn County District Attorney's Office dropped those charges in February 2023.
A grand jury indicted the three deputies May 18 on misdemeanor charges of battery and felony charges of violating their oaths of office. A Black deputy recorded punching Ratliff was also fired and arrested on the same charges.
In a separate incident involving another of Daniels' clients, surveillance video shows a deputy shoving Zyaire Ratliff, 23, to the ground and punching the Black man several times before another guard intervenes.
Hobbs and Ratliff's cases are not isolated incidents, Daniels and Bassent noted at the press conference.
Adam Drummon, who is white, filed a federal civil rights lawsuit that a judge allowed against the jailers accused of beating him during a strip search in January 2021 after his drunk driving arrest. In another case, Brian Flacher, a white man, said at the Wednesday press conference that deputies beat him in the jail shower when he refused to wash his hair.
A spokesman for Camden County Sheriff Jim Proctor blamed the youth and inexperience of the deputies for their abuse of Hobbs and Ratliff, adding that all jail employees recently received additional de-escalation training.
"The sheriff has always been open for any government agency to come in and inspect or investigate. That includes any federal agency or state agency," the spokesman told the AP.
The Justice Department declined to comment on the AP's inquiries about the case.