Sheryl Lee Ralph Explains How She Pulled Off Her Emmys Speech
The award-winning actress had the perfect assist from jazz vocalist Dianne Reeves, who is behind the song "Endangered Species."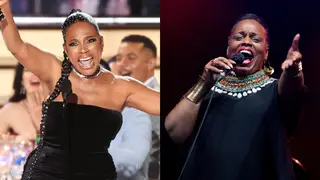 Sheryl Lee Ralph received a standing ovation at the 74th Emmy Awards on Monday (Sept. 12) during her acceptance speech for her first-ever Emmy for "Supporting Actress in a Comedy" for her role in ABC's Abbott Elementary, singing the song "Endangered Species" by jazz vocalist Dianne Reeves, she blew the crowd away. Now, the Emmy winner is sharing how she was able to make the iconic moment come to life!
Speaking with the Los Angeles Times, the actress explained that she was in shock when her name was called but had been preparing for this moment since she was a little girl.
"When I heard that "Shhhheryl..." I was like, "Oh, my God, this is happening. I am in the land of dreams come true." Now, mind you, I have been practicing an acceptance speech since I was 5 years old. And everything I thought I was going to say went completely out of my head. And then I thought, "What did I really want people to know?" I wanted them to know: I'm an endangered species," Ralph said.
Adding that she has been singing "Endangered Species" by Reeves for about 15 years.
Ralph also shared that the pair actually met 33 years ago in the midst of a benefit concert to raise awareness around HIV and AIDS. Reeves had been invited by the Emmy winner to come and sing her powerful song with equally powerful lyrics at the event.
Fast forward to the 74th Emmys night, to which Reeves said that unknowingly sharing the stage with her friend felt empowering.
"That's what I felt more than anything. I was looking at [Sheryl] and then the words that [she] said in [her] speech — keep being a doer, a dreamer, keep doing you, you never know when it's going to happen, just stay steadfast on a journey. And those words, the whole thing was so powerful," Reeves shared with the LA Times.
Watch Sheryl Lee Ralph's acceptance speech at the 2022 Emmys below: