2023 NAACP Image Awards: See Why Jonathan Majors Is a Big Deal in Hollywood
The actor is set to make his anticipated arrival in the Marvel universe as Kang the Conqueror in 'Ant-Man and the Wasp: Quantumania.'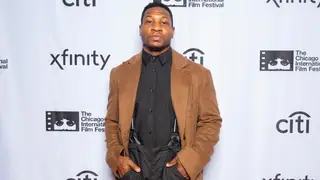 Jonathan Majors is quickly becoming well-known for his artistic range. Following a memorable performance in The Last Man in San Francisco, the actor racked up several more roles, including a spot in the popular HBO series Lovecraft Country in which Majors ultimately earned a Primetime Emmy Awards nomination for "Outstanding Lead Actor in a Drama Series."
Majors also earned a nom for "Outstanding Actor in a Motion Picture" at the 2023 NAACP Image Awards for his performance in the biographical war film Devotion, which follows Majors as Jesse Brown, the first Black aviator in U.S. Navy history, and his enduring friendship with fellow fighter pilot Tom Hudner.
The actor is up against several equally talented onscreen gentlemen, including Daniel Kaluuya, Sterling K. Brown, Will Smith, and industry newcomer Joshua Boone. Before we find out who will take home the prestigious award, see why Jonathan Majors is becoming a big deal in Hollywood with these standout performances.
The Last Man in San Francisco

Majors initially garnered attention for his performance as Mont Allen in the 2019 film The Last Man in San Francisco. The movie follows two friends, Mont and Jimmie Fails, as they try to reclaim the house built by Jimmie's grandfather.

Lovecraft Country

The buzz around Majors grew even bigger following his performance on HBO's canceled SyFy horror series  Lovecraft Country. The actor plays Atticus "Tic" Freeman, his friend and later lover Letitia, and his Uncle George as they embark on a road trip across 1950s Jim Crow America in search of Tic's missing father.

The role earned Majors several recognitions, including a Primetime Emmy Awards nomination for "Outstanding Lead Actor in a Drama Series."

The Harder They Fall

Majors breathes new life into the story of cowboy Nat Love in the Jeymes Samuel-directed Black revisionist western, The Harder They Fall. After discovering that his enemy Rufus Buck, played by Idris Elba,  is being released from prison, Love reunites his gang of outlaws to seek revenge.

Watch the NAACP Image Awards live on Saturday, February 25, 2023, at 8:00 pm ET/PT on BET.