This 911 Call of Paula Patton and Robin Thicke's Son Begging Not to See His Father Will Break Your Heart
Their son is reportedly "praying to angels."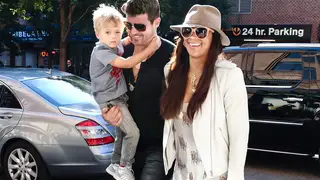 While Robin Thicke and Paula Patton's relationship is over, the repercussions of their messy split is reportedly still having an impact on their young son. Following accusations of abuse, TMZ  is now reporting that Patton and Thicke's 6-year-old son, Julian, is panicking and pleading to not see his father leading up to their scheduled visits. 
In a recording acquired by the site, you can hear the nanny pleading with a 911 responder: "We need you guys to intervene because we have a court ordered document that if the child doesn't want to go with his father he doesn't have to go and now we feel like we're being forced," the nanny says.
"We have a restraining order, the person is within distance of the restraining order, he's in violation of it currently," the recording continues. "This child is literally begging for me and everyone to call 911, that's how much he does not want to go. He's 6 years old and literally every time we have these visits, the night before, the day of, he's crying, he's praying to angels, he's trying to avoid it like the plague. It needs to end."
See what spurred the accusations of domestic abuse with The Wendy Williams Show, above.
Listen to the entire recording below:

Twitter is sympathizing with the young boy:

Others are pointing blame: