13 Disturbing Tweets About the Death of Eddie Long
Is this too far?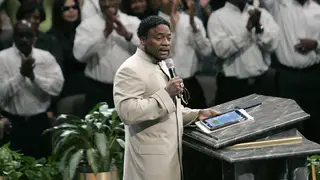 The death of Bishop Eddie Long, announced Sunday morning in a statement from his New Birth Missionary Baptist Church, has sparked a lot of commentary on Twitter. While many are sending their condolences to the Georgia pastor, others are using the occasion to share their negative views of the controversial leader, who echoed the anti-LGBT stance of many in the Black church even as rumors about his own sexual identity surrounded him.

Not everyone is tweeting their condolences over Long's death. Many are using the occasion to call him out on his alleged hypocrisy and anti-LGBT views:
Watch BET.com's acclaimed original documentary Holler If You Hear Me: Black and Gay In the Church, above.