Black Journalist Kristen Welker To Replace Chuck Todd On 'Meet The Press'
'This is truly the honor of my life,' says Welker about her history-making appointment.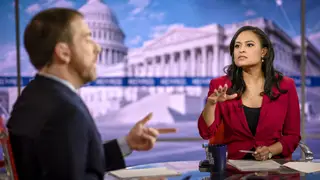 Kristen Welker is poised to make history as the first Black moderator of NBC's Meet the Press after the network selected her to replace the Sunday morning political panel show's current moderator Chuck Todd.
He announced his departure Sunday (June 4) on the program, saying, "I've watched too many friends and family let work consume them before it was too late."
Rumors swirled that Todd, 51, would leave the show when its executive producer was reassigned last summer, the Associated Press reports. There's no indication that the network asked him to step down.
It's unclear exactly when Welker, 46, would take the helm from Todd, whose tenure as moderator began in 2014.
Welker stepped into the national spotlight in 2020 when she moderated the contentious final presidential debate between former President Donald Trump and President Joe Biden. She's a former chief White House correspondent for NBC News and was named co-host of Weekend TODAY in 2020.
On their Monday morning (June 5) broadcast, TODAY's co-hosts Savannah Guthrie and Hoda Kotb congratulated Welker on her new position.
"My TODAY show family, you guys have been so supportive of me, always, and in this moment I'm so grateful. This is truly the honor of my life," Welker said.
She continued: "Meet the Press is one of the most important political broadcasts in history. I just feel so grateful and humbled to all of those who built this amazing legacy. I'm thinking about Martha Rountree, Tim Russert and of course, my mentor Chuck Todd, who taught me just about everything I know about politics."
Meet the Press debuted in 1947 with Rountree as the first host, making Welker only the second woman to host the program.