This Weekend: Here's What to Watch, Listen to & Experience
Engage new sights, sounds, and things by Ravyn Lenae, YG, and Halle Berry.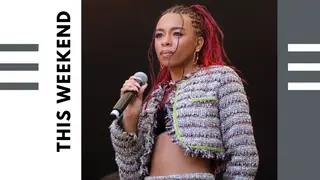 When it comes to content, it's easy for us to stick to what we know or want that old thing back. But for a rare few, being a true content connoisseur is about being on top of what's hot, what's trending, and what's next. Luckily, this new guide is everything for your music, literary, film, TV, and live experiences needs.
Each week, yours truly, Kevin L. Clark, will be your go-to advocate, spotlighting all those content cravings worth enjoying.
You're now tuned into This Weekend, a weekly round-up for content culture lovers and those who love to avoid FOMO.
For Friday, Feb. 4, this week's episode finds us with some freshly-discovered treasures for you, your family, and friends to get into + share with others. It contains a healthy dose of sonic vibes and, of course, something streaming that's a feast for the eyes.
So bon appétit to all those true savants who are purveyors of content culture out there.
---
For Listeners Only:
With Valentine's Day rounding the corner, Queen Naija and Big Sean are forgoing social distancing rules for "Hate Our Love," a new joint for would-be lovers to add to their romanticized playlists. The pair stay true to their respective relationships, while Naija indirectly-directly addresses the real-life events that have led to the public targeting her relationship with YouTuber Clarence White. 
Sean Don, who is no stranger to the gossip mill, delivers a boastful verse mocking anyone who attempts to play games with them or their significant others. This song is a soundtrack for anyone who wants to keep those messy crows out of their love life.
It is awesome to announce the return of Ravyn Lenae. "Skin Tight," the singer-songwriter's first release since "Rewind," which was featured on the Insecure soundtrack, finds Lenae reuniting with frequent collaborator Steve Lacy over some lush and hypnotic grooves. 
The two still work very well together, as Lenae describes this new bop as one that "speaks to sharing kinetic energy with another person, even if time has passed and you aren't together anymore." If you're feeling lovelorn, play this cut for some healing vibes ahead of Ravyn Lenae's next studio album.
Back to back features from J. Cole is such a rarity that it has to be considered luxurious on this first weekend of Black History Month. After appearing alongside Benny the Butcher last week, Cole connects with Moneybagg Yo and YG for the latter's new single, "Scared Money." 
The trio spit expensive and braggadocious bars about their top-tier lives on the Gibbo-produced track, making this unlikely grouping a hit on social media, while positioning 2022 as the potential year of "Cole World."
Watch The Streams:
Raised by Wolves is a sleeper hit featured on HBO Max, which stars a set of Android partners — Father (Abubakar Salim) and Mother (Amanda Collins) — protecting a group of human children on a dangerous, foreign planet. 
Returning this weekend for Season Two, Ridley Scott's dystopian sci-fi series promises a lot more action, ideological debates, and promise that nothing will stay stable as Mother's "natural child" looks to threaten all of humanity's continued existence. If you're interested in a trip to Kepler 22 b's tropical zone, add this show to your watch queue tout suite.
Halle Berry is making sure that 2022 is more than just a return to form for the award-winning actress, she wants to keep audiences hurtling towards her in a major way. This is why Moonfall, a Roland Emmerich disaster movie that also features Patrick Wilson and Kelly Yu, is a disaster film worth tuning in for. 
When a mysterious force knocks the moon from its orbit and sends it hurtling toward Earth, Jocinda "Jo" Fowler (Berry) must team up with a man from her past and a conspiracy theorist for an impossible space mission meant to save humanity. Moonfall, which is clearly a more entertaining disaster than the one we're facing IRL, should be atop your list of films to watch with friends this weekend.
Did you know that Guy Torry is one of the people responsible for the Black comedy explosion of the 1990s? Thankfully, the Amazon docuseries, Phat Tuesdays, chronicles the rise and evolution of Black humor through storied recounts by some of the industry's most cherished voices. 
From Kym Whitley and Luenell to Steve Harvey and Dave Chappelle, director Reginald Hudlin frames the impact of The Comedy Store-sponsored night as one that kept the iconic club afloat while forever changing the landscape of sitcom TV. If you want to know more, check out our interviews with DeRay Davis, Guy Torry, and the rest of the Phat Tuesdays family.
Live at the Experience:
This year's Black History Month theme is Health and Wellness, which means that we are active and activated to be our best selves. And while Black folx know that we create history-making moments 365 days, 24/7 — February gives us a chance to travel to other places and share our successes and stories with our community and the rest of the world.

With that in mind, there are a few things that we can do to honor ourselves, our people, and Black history this month.

Almost every state in the country has a Black history museum or a Black American heritage site. Feel free to travel to places such as the National Museum of African American History and Culture (better known as the Blacksonian) or to the Hampton University Museum, which is the first and oldest museum in the country.

Like many other places such as this, virtual tours and online exhibits are also offered.

If there's no museum or heritage site near you, you can keep an eye out for the Black History Mobile Museum, which will be traveling the country all February through until early summer. There are also ways to do so that won't have you leaving your block as online DSPs like Spotify, Tidal, and Amazon have an extensive collection of Black content meant to inspire, awaken, and engage your spirit during Black History Month.
Check out everything from the Black History is Now collection to Chuck D's Audible 'Words + Music' Original program, Songs That Shook the Planet, and get a fill of all things Black, beautiful, and excellent to share with family and friends.
---
Check back to BET.com and BET Digital for more weekly installments of This Weekend.
Kevin L. Clark is a screenwriter and entertainment director for BET Digital, who covers the intersection of music, film, pop culture, and social justice. Follow him on @KevitoClark.