Michael B. Jordan Takes the Director's Chair for 'Creed 4'
Jordan and team envisioned a completely new and distinct experience for this film, said producer Irwin Winkler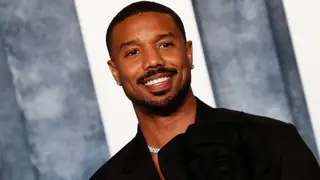 Michael B. Jordan is adding another notch to his directorial belt.
Irwin Winkler, producer of the "Rocky" and "Creed" franchises, revealed that a fourth film is in development, with Jordan set to direct, per Variety.
Jordan's first foray behind the camera was for "Creed III," for which reprised his role as the heavyweight champion, Adonis Creed, in this latest installment of the "Rocky" spinoff film series. Jonathan Majors also starred in the third film as antagonist Damian Anderson. 
"Creed III," released in March, delivered a knockout performance at the box office, setting a new record for the boxing franchise with a $58 million debut weekend. The first three movies of the franchise have grossed more than $663 million worldwide.
Jordan first appeared as Adonis in 2015's "Creed," followed by the 2018 sequel. In the first two "Creed" films, Sylvester Stallone reprised his role as Rocky Balboa, becoming a mentor to Adonis, the son of his former rival Apollo Creed (Carl Weathers). "Creed 3" is the first installment in the long-running series without Stallone.
Jordan and Amazon were in talks for a film and television series expanding the "Creed" universe, Variety reported in March. Though specifics were limited, sources indicated that Prime Video could be home to the MGM franchise in the wake of Amazon's acquisition of MGM. 
Deadline was the first to break the news of "Creed 4," posting a video clip on X of Winkler announcing the upcoming film.
"We're planning to do 'Creed 4' right now — it's in the works — and we think we have a really good story, a really good plot because of the strike, like everybody else," Winkler said. "Probably a year from now we're going for pre-production."
During Deadline's Contenders Film: Los Angeles event, Winkler also discussed the resilience and triumph of the "Rocky" franchise, to which "Creed" is intricately linked.
"Michael and the creative team had the beautiful vision from the start to create a wholly new and different experience for this movie," he said. "It had to be firmly cemented in what we all [know] the 'Creed' and 'Rocky' movies for… it had to have great action, boxing, but we also really examined what kind of movie we were making."
"And a lot of that, those early days with Michael were spent crafting how we were looking at the Damian character, which is why I think everyone responded to the depth, not only on the page, but also on the screen. You spend half the movie having deep sympathy for him and understanding his vulnerability."