9 Beautiful Black Celebrities Rocking Their Baby Bumps
From Keke Palmer, Rihanna, Cardi B, and others, these stars aren't shy about embracing their growing bellies, and we are here for it.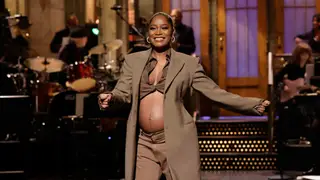 The days of women hiding their baby bumps are over. Women are going above and beyond, embracing their growing bellies on social media, TV and in magazines. In fact, some are even taking it to a new level with cool photo shoots like ASAP Rocky and Rihanna did earlier this year. 
Here's a look at nine of our favorite pregnancy reveals and other beautiful baby bump moments.
Keke Palmer

During her Saturday Night Live hosting gig, Keke flaunted her baby bump in a stylish brown suit, confirming that the rumors that she is expecting her first child are true. She joked about her frustrations with people coming up to her in the street congratulating her before it was confirmed. "I got a liquor sponsorship on the line! Let the check clear; then we can get to the damn baby shower!" She called the pregnancy the biggest blessing. Congrats Keke! 

Rihanna

We all remember that unforgettable stylish maternity photoshoot Rihanna and ASAP Rocky shared with the world earlier this year. The couple walked hand in hand on the snowy streets of New York City. Rih Rih wore a long pink jacket left open to reveal her baby bump with long necklaces hanging down her neck, which draped over the bump. The power couple really showed us how it's done. The duo welcomed their baby boy in May. 

Cardi B

During Cardi's 2021 BET Awards performance, the rapper revealed she was pregnant with her second child in a stylish black jeweled bodysuit. She was even joined on stage by her husband, Offset, and his group Migos during her performance. The couple welcomed their second child, Wave, in Sept. 2021. Nobody does it like Cardi.  

Kelly Rowland

We all know our girl likes to stay in shape so it's no wonder that even towards the end of her pregnancy, the "Motivation" singer was still flexing on the gram with her baby bump. Back in 2021, Kelly Rowland showed off her bump and physique, highlighting the beauty of a prepartum exercise body. And according to Women's Health magazine she also posted an IG story stating, "What is this baby waiting for?" 

Tia Mowry

The "Sister, Sister" actress is not shy about flaunting her baby bump, whether in selfies or even at the airport. Back in 2018, while pregnant with a baby girl, she rocked a stylish tan maternity gown paired with a comfy white cardigan showing off her glow. She also showed off her beautiful bump while wearing cheetah print pajamas on Instagram, where her son Cree and now estranged husband, Cory Hardrict are seen kissing the soon-to-be baby girl. 

Tamera Mowry

The former host of "The Real" has always been super vocal about her pregnancies and the beauty of mom life. While pregnant with her  son Aidan, Tamera flaunted her bump on the red carpet flawlessly and during her maternity shoots. You go girl!

Ciara

Ciara is known for her jaw-dropping style, so it's no surprise that the R&B star would turn heads while pregnant. The singer announced she was expecting her third child and opened up about her pregnancy issues. During her pregnancies, she rocked the house with her chic maternity looks, such as her gorgeous bronze gown on the red carpet at the 2014 Grammys an her selfies she posted on Instagram. Although motherhood isn't easy, she makes it look good.

Jodie Turner-Smith

Jodie is a trendsetter and someone who pushes the envelope with fashion, and in 2020 while pregnant, she bared her belly in a stylish all-black attire on the Graham Norton Show while promoting her film Queen and Slim. And you definitely turned heads when she attended 2020 BAFTA Awards with her husband, actor Joshua Jackson wearing an eye-catching yellow dress. She captioned an Instagram post with, "I've never felt more beautiful, i will never ever forget this moment, and i look forward to showing this to my baby angel years from now 🥰."

Alicia Keys

Alicia Keys blew the audience away in a gorgeous sequined gown at the MTV EMA awards back in 2014 while pregnant with her second child Genesis, who is now 5 years old. As she sang, "We are here" the Grammy award winning artist glowed with pride and to top it all off, she received a kiss on the baby bump by Bono that night which she took to instagram to share with her followers."Baby love from Uncle B Maybe the baby will be our Christmas gift... we'll let u know," Keys captioned the photo.