Nearly One-Third of American Children Live in Poverty
Sixty percent of Detroit's kids are poor.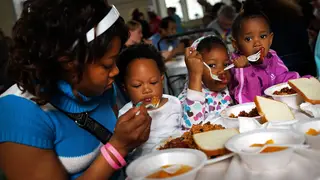 While overall national child poverty rate fell 2 percent from 2012 to 2013 in all cities, it decreased only 1 percent in the largest cities, researchers from National Center for Children in Poverty (NCCP) found.  
"Many Americans — even policymakers — seem unaware of the shocking prevalence of child poverty in many of our nation's most important and iconic cities," Curtis Skinner, Ph.D., one of the author's of the report and the director of Family Economic Security at NCCP, said in a university press release.
He added, "Reducing child poverty is critical to the social and economic health of cities, now and in the future."
Other key findings included:
— In Detroit, it's three in five, a whopping 60 percent.
— More than half of kids living in Cleveland, Ohio and Buffalo, N.Y., were living in poverty.
— A little less than half of kids in Fresno, Calif., Cincinnati, Ohio, Memphis, Tenn., and Newark, NJ, were living in poverty.
— States with the highest growth in poverty were Fresno, Honolulu, Sacramento, Stockton, Calif., and Fort Wayne, Ind.
One aspect that was glaringly missing was how race intersected with poverty. 
BET.com reached out to Skinner who said the data set they used was small and didn't account for race, but his team is working on looking at a larger data sample that will factor in race to have a more complex understanding. Those findings should be ready by late January/early February 2015.
"We know that looking at the existing national data that Black and Asian children have a higher incidence of poverty compared to White and Asian children, so we strongly suspect that when we look for race these numbers will be quite similar, especially in places like Detroit and Cleveland," Skinner told BET.com.
Yet Skinner also emphasized the importance of not always associating people of color with poverty.
"Looking at data we know that there are more white people in this country that live in poverty, but on the other hand people of color are disproportionally poor, and so we have to explore all of this."
In the end, Skinner and his colleagues hope that this report will urge politicians to do more in understanding just how dangerous poverty is for children's health as they grow into adults. From one's ability to learn, mental health, HIV risk, social skills obesity and chronic illness, it's clear that poverty negatively impacts our lives and health outcomes.
BET Health News - We go beyond the music and entertainment world to bring you important medical information and health-related tips of special relevance to Blacks in the U.S. and around the world. Click here to subscribe to our newsletter.
(Photo: Spencer Platt/Getty Images)