Kanye West Can Buy 'White Lives Matter' Rights For $1 Billion
'Civic Cipher 'radio show hosts Rames Ja and Quinton Ward, acquired the rights to 'WLM' back in October 2022.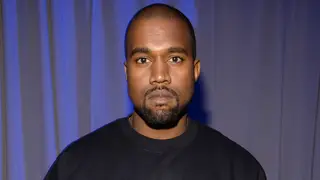 If rapper Kanye West, who now goes by Ye, is interested in securing the rights to 'White Lives Matter,' it's going to cost him $1 billion, according to one of the owners of the phrase.
While the phrase is not for sale, Civic Cipher radio show hosts Rames Ja and Quinton Ward, acquired the rights to 'WLM' back in October and shared with TMZ that  a 10 figure offer would have to come in for them to even consider selling the phrase.
Ja said that the multi-talented creative has not contacted him about the trademark rights.
In case you missed it, the 45-year-old  is no longer a billionaire after losing partnerships over his antisemitic comments but has since apologized for his controversial rhetoric.
In a long-winded 16-minute video shared by WmgLab Records on YouTube on Saturday (Oct. 29), the artist and entrepreneur addressed the domino-effect financial fallout amid his comments alleging that the death George Floyd was caused by fentanyl use  and antisemitic remarks that were seen on social media platforms and heard in interviews.
"When the idea of Black Lives Matter came out, it made us come together as a people. I said that, and I questioned the death of George Floyd, it hurt my people. It hurt Black people," he said.
Continuing, "I want to apologize for hurting them [sic] because right now God has shown me by what Adidas is doing, and by what the media is doing, I know how it feels to have a knee on my neck now. So I thank you, God, for humbling me and letting me know how it really felt. Because how could the richest Black man ever be humbled other than to be made to not be a billionaire in front of everyone off of a comment."
Elsewhere in his apology video, West addressed being dropped by Adidas, losing brand deals and trying to distance himself from any "hate group."
"I think Adidas felt like cause everyone was ganging up on me that they had the right to just take my designs," West said.
"I feel like this is God humbling me right now," he continued. "Because there's two things that are happening. A lot of times when I would say 'I am the richest Black man,' it would be a defense that I would use for the mental health conversation. …What's happening right now is I'm being humbled."
Closing his remarks in prayer, West said "no association to any hate group."
"If any hate happens upon any Jewish person, it is not associated (gestures to himself) because I am demanding that everyone walk in love."