In the Kitchen With Celebrity Chef G. Garvin
TV host sounds off on cooking and eating healthy foods.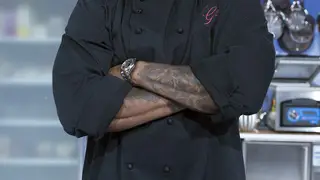 BDO: What is the number one fresh food item that should be on our grocery list that we tend to overlook?
GG: Shallots. They are a great substitute for onions and a great way to start any soup/sauce or as an addition to a salad.
BDO: You offer such a wide range of robust recipes for summer cooking. What is your favorite quick and healthy dish to whip up this season?
GG: Boneless, skinless chicken breast with sliced avocado, brown rice and broccoli rabe.
BDO: What inspired your diverse line of signature spices?
GG: I wanted to share my love for flavoring food with my friends and fans using the spices that I created.
BDO: "Road Trip with G. Garvin" is well into season 3 and continues to take viewers on an incredible culinary ride! Could you share one of your favorite dishes you have discovered this season?
GG: The Fried Kale Salad with the Crispy Pig Ears and Peppers at a place called The Purple Pig in Chicago.
BDO: Childhood obesity is major concern in our nation. You founded The One Bite Foundation to address childhood obesity as well as domestic violence, homelessness and hunger by exposing youth to the culinary arts. How can we encourage healthy eating habits in our youth?
GG: Educating kids on when and what they eat is the most important tool for leading them to try any new food source.
BET Health News - We go beyond the music and entertainment world to bring you important medical information and health-related tips of special relevance to Blacks in the U.S. and around the world. Click here to subscribe to our newsletter.  
(Photo: Eddy Chen/NBC/NBCU Photo Bank via Getty Images)