Former N.Y. Rep. Mondaire Jones Launches New Bid For Congress After Loss Of His Seat
'I'm running to finish the work I began,' Jones says in a Twitter announcement.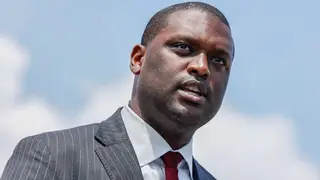 Former New York Democratic congressman Mondaire Jones announced Wednesday (July 5) that he will run again for the House of Representatives after losing his House seat in 2022 when congressional district lines were redrawn.
"Most people in Washington didn't grow up like me. They have no idea what it's like to struggle. We got to get Washington back on the side of working people. I know we can do better. For me, this is personal," Jones said in a social media campaign video, noting that he was raised by a single mother who worked multiple jobs to support the family.
In the video, Jones underscores that he's returning to his Rockland County roots by running in New York's 17th Congressional District, which he represented for two years after winning the seat in 2020. That year, he became one of the first two openly gay Black men elected to Congress.
But in 2022, redistricting placed Jones in the same district as then-Rep. Sean Patrick Maloney, who was at the time in charge of the House Democrats' campaign arm. That forced Jones to run either against Maloney or in a newly drawn district.
Jones opted to run in the 10th District, which includes parts of Manhattan and Brooklyn, but lost to now-Rep. Dan Goldman in a crowded Democratic primary race. Meanwhile, Maloney also lost his election to GOP Rep. Michael Lawler, a race that helped flip control of the House to Republicans.
In his return to the Hudson Valley's 17th District, Jones is pitted against fellow Democrat Liz Whitmer Gereghty, the sister of Michigan Gov. Gretchen Whitmer in the primary.
Politico reports that Gereghty, an education advocate, has sought support from the Michigan congressional delegations and is expected to campaign as a moderate Democrat.
During his House tenure, Jones was a member of the Congressional Progressive Caucus who supported early efforts to cut police funding but ultimately voted to increase funding to law enforcement.
The Republicans came out swinging after Jones announced his congressional bid, painting him as "more in line with [Rep.] Alexandria Ocasio-Cortez than the voters in the Hudson Valley he abandoned," a statement from National Republican Congressional Committee spokesperson Savannah Viar said, according to Politico.
The statement also accused Jones of being soft on crime and stopping constituent services two months before leaving office.
In a response to the GOP attack, Jones' campaign told Politico that he suspended constituent services to focus on resolving hundreds of open cases and referred new non-emergency cases to the offices of New York Sens. Chuck Schumer and Kirsten Gillibrand.
"The people of NY-17 know Mondaire will always fight for them, and that is why he is launching his race today with the support of 109 in-district elected officials and party leaders," Jones' spokesperson told Politico.