Two Cases Of White Men Receiving No Prison Time For Raping Teens Go Viral And Spark Outrage
Many say the cases of Michael Wysolovski and Shane Piche show how the judicial system protects white men and discourages victims of sexual assault.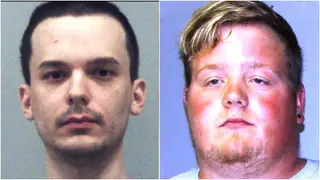 National outrage was sparked after two separate men pleaded guilty to sexually assaulting teenage girls but were not sentenced to any prison time.
In one of the cases, 25-year-old Shane M. Piche, a former school bus driver in New York, was sentenced to 10 years' probation after admitting he raped a 14-year-old girl. Piche said he met the victim during his bus route in 2018 and "maintained communication" with her on social media, Jefferson County Chief Assistant Prosecutor Patricia Dziuba told CNN.
Dziuba said Piche eventually invited the girl to his home, gave her alcohol, and raped her.
Piche was arrested September 5, 2018, and initially faced charges of second-degree rape, first-degree unlawfully dealing with a child and endangering the welfare of a child.
On February 21, he pleaded guilty to third-degree rape and on April 25 he was sentenced to probation.
Although Piche admitted to his crimes, the Watertown Daily Times reports, Judge James P. McClusky said because there was only one victim, and Piche had no prior arrests, the accused did not deserve to be sent to prison. The judge also said Piche was at low risk of committing the crime again.
Piche's probation sentence deeply disturbed the victim's mother, who said the girl now struggles with depression.
The mother of Piche's victim said in a statement to WWNY, "I wish Shane Piche would have received time in jail for the harm he caused to my child. He took something from my daughter she will never get back and has caused her to struggle with depression and anxiety."
As part of his sentence, Piche was placed on the sex offender registry and is not allowed to be alone with anyone under the age of 17. He was also ordered to pay $375 in court fees plus a $1,000 special sex offender registration fee.
News of Piche's probation angered many people, who felt the 14-year-old victim was not given justice

Another case in Georgia drew a similar response after a man was sentenced to time served for keeping a teenage girl in sexual captivity for over a year.

According to the Atlanta Journal-Constitution, 33-year-old Michael Wysolovski was sentenced to 10 years, with eight months of jail time, after pleading guilty Thursday to first-degree cruelty to children and interstate interference with custody.

Wysolovski received credit for the eight months he spent in detention before his trial. The rest of his 10-year sentence will be served on probation.

He must also register as a sex offender for life.

In Wysolovski's case, he lured a girl he met on an online forum for anorexia to his home. The victim, who was only 15 at the time, said she was unhappy at her home. Eventually, Wysolovski convinced the girl to live with him when she was 16.

While at his home, the two simulated non-consensual sex acts, prosecutor Michael DeTardo said during the plea hearing. However, Wysolovski eventually violated the girl's boundaries and ignored her "safe words." He would use "excessive force," which included biting and physical violence, and used food to punish the victim, who suffered from anorexia.

He also forced the victim to perform sexual acts.

However, with Georgia's age of consent being 16, Wysolovski could not be charged with child molestation.

Rape and aggravated sodomy charges were also dropped as part of his plea deal.

Wysolovski's minimal sentence was also met with anger

Many people feel these instances of rape with no prison time demonstrate why victims have difficulty coming forward