Nelly and Ashanti Sing Usher's 'Nice & Slow' Amid Dating Rumors
The pair have had an on-again, off-again romance that began in the early 2000s.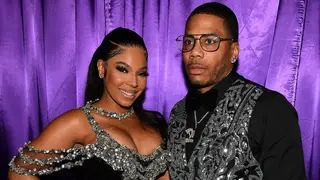 Nelly and Ashanti may or may not be dating, but one thing that can't be denied is that they know a good tune when they hear it.
On Monday (August 7), Nelly shared a cute video of the duo on his Instagram Story singing along to Usher's 1997 hit record "Nice & Slow", as reported by US Weekly. In the video, the rapper and the "Rain On Me" singer are sitting side-by-side while smiling.
The artists sang the song's distinctive lyrics, "I just want to take it nice and slow," as Ashanti rested her head on Nelly's.
They continued, "See I've been waiting for this for so long." And, so have we!
The "Hot in Herre" rapper captioned the post, "We on my bro shyt."
In April, the duo first sparked reconciliation rumors when they were spotted holding hands and sitting ringside at a boxing match in Las Vegas during a battle between Gervonta Davis and Ryan Garcia. Back in June, Nelly and Ashanti attended the 3rd Annual Birthday Ball for Quality Control CEO Pierre Thomas in Atlanta. At this party, they were both decked out in black and silver.
Their journey dates back to 2003, when they met during a press conference at the Grammy Awards.
In 2010, Nelly admitted that he and Ashanti were each dedicated to their careers. In an interview with Rap-Up TV, he explained, "I'm married to my work. I'm married to getting things into a certain situation. [Ashanti's] married to getting things into a certain situation right now. We enjoy each other's company. We love it."
But in 2013, the couple went their separate ways. Ashanti opened up on their breakup in 2015 during an appearance on The Meredith Vieira Show. "I think sometimes when people have their own insecurities it allows them to act out of character…I think it's really important to know yourself and understand what you want and get it. I'm in a different place right now."
After 10 years apart, Nelly told Entertainment Tonight, "Time does wonders for a lot of different things," of his reconciliation with Ashanti. He added, "And time is one of those things that allows you time to reflect on what's what, and you get a chance to see things in a different light and see your faults. So I think we both did that and it's cool that we just friends."