Rihanna Was in Full Character at the BET Awards 2015
RiRi premiered the trailer for her single "B***h Better Have My Money" at the show.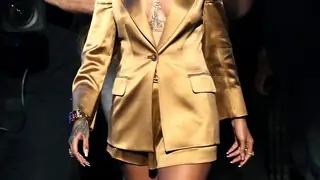 Rihanna showed up at the BET Awards 2015 on a mission: she still wants her money, guys. She took the concept for her latest single, "B***h Better Have My Money," to a whole new level, taping Floyd "Money" Mayweather's mouth shut with duct tape and tossing her clutch at BET's President of Programming Stephen G. Hill. The Navy can relax, though, as it was all just a part of one huge act.
The 27-year-old kissed and made up with the BET exec after the stunt, proving that it was all in good fun:
RiRi's act stands out as one of the best performances of the night as she managed to have everyone believe that she was actually pissed. After her pseudo-tantrum, the Bajan beauty strutted onto the stage — like the silk-wearing gangsta she is — to introduce the one-minute trailer to the new visual for the catchy single.
Watch Rihanna kidnap a weathly man's wife and stuff her into a trunk — no, really — in the trailer below. This is going to be a good one. The full video premieres this Thursday (July 2).
P.S.: We really hope she finally gets her money, 'cause girl is upset.
BET.com is your No. 1 source for Black celebrity news, photos, exclusive videos and all the latest in the world of hip hop and R&B music. 
Click here for a chance to win a girls' trip to Miami!
(Photo: Mark Davis/BET/Getty Images for BET)