Travis Scott Stops Concert To Help Dangling Fans From Injury
This comes off the heels of the unfortunate Astroworld tragedy.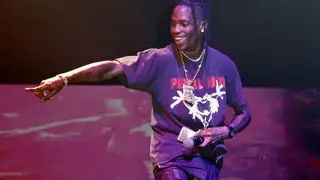 Travis Scott is not trying to have any mishaps at his shows moving forward as he recently stopped a possible incident from happening at Coney Island for The Day Party at The Coney Art Walls. This past Monday fans were seen dangling from the contraption on the stage to get a better view of the rapper's performance, where Scott proved that he didn't want a repeat of what happened before.
Scott was not having it and encouraged the fans to get down to avoid injury, which the fans obliged to his ask TMZ reported.
Scott seems to be very cautious after the November tragedy that occurred with his Astroworld Festival.
"Travis is committed to doing his part to ensure events are as safe as possible so that fans can have fun, and he encouraged fans to listen to requests from security and climb down from the lighting structures so that everyone would be able to safely enjoy last night's performance," a spokesperson for Scott told The Post.
The rapper is still in an ongoing case in regards to the deadly Astroworld festival and has been accused of violating a gag order BET.com reported as attorneys for some of the victims from the deadly Astroworld music festival alleged that an effort to influence potential jurors could be happening behind closed doors.
This comes after Scott issued an announcement earlier this month about Project HEAL, a $5 million initiative that includes funding to address safety challenges for festivals and large-scale events.
"My team and I created Project HEAL to take much-needed action towards supporting real solutions that make all events the safest spaces they can possibly be. I will always honor the victims of the Astroworld tragedy who remain in my heart forever," Scott alongside an Instagram post after the initiative was announced.