Kylie Jenner Freaks Out After Hairstylist 'Cut Off All' Her Natural Hair During Routine Trim
The beauty mogul gives us all a rare glimpse at her "natural hair".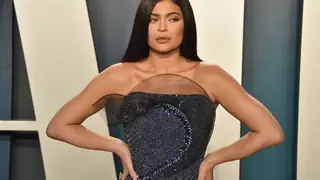 Due to her unwavering commitment to lace-font wigs, it is pretty rare to see Kylie Jenner on social media flaunting her natural hair, but as we know, every now and again, you need to check in on your natural hair.
On Thursday (Feb. 13), the Keeping Up with the Kardashians reality star revealed on her Instagram Stories that she was not pleased with her latest visit to the salon chair.  
"[Jesus Guerrero] said he was giving me a trim and cut off all my hair," Kylie wrote on a black-and-white selfie video showing her lack of length. 
This comes a day after Stormi's mom posted a series of photos on Instagram celebrating Valentine's Day early in a bright red jumpsuit and a long braided ponytail.  
While it is unclear if the message was meant to negatively call out the celebrity hairstylist, Jesus Guerrero (who was tagged in the post) responded to the complaint, writing, "@kyliejenner is trying to play me."
At this time, it is uncertain if this controversial hair moment will end the pair's hair-lationship. Sadly, only time will tell.