Could Grant Hill And Dwyane Wade Be Running For U.S. Senate In Florida?
The two NBA legends are being are being looked at by Democrats for recruitment to run in the 2024 election.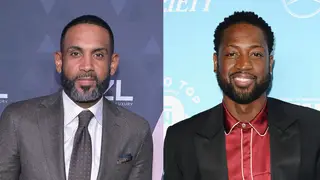 Two former pro basketball superstars are currently being recruited to take their talents into the world of politics in the state of Florida.
Influential Democrats in the "Sunshine State" are eyeing NBA legends Grant Hill and Dwyane Wade to run against right-wing Republican Sen. Rick Scott, NBC News reports. Although neither have shared any political aspirations, top donors believe that the star power of Hill and Wade could help turn Florida blue in 2024.
John Morgan, a national Democratic donor and a prominent attorney based in Orlando said that he spoke with Hill about entering Florida politics.
"Grant Hill has great name ID. He would raise a boatload of money and is one of the smartest guys you will ever meet," Morgan said. "Grant Hill would beat the s--- out of Rick Scott."
Morgan also shared the idea with Larry Grisolano, a partner and the CEO of theAKPD Message and Media, a Democratic consulting firm founded by David Axelrod, who formerly served as a chief political strategist for former president Barack Obama's campaigns.
"That's what Larry and I talked about — Grant Hill," Morgan said of the former Orlando Magic forward. "I'm not sure it's his time, but he would be great. He's competitive. I think he sees LeBron James as a billionaire and Magic Johnson is almost a billionaire, and it gets his competitive juices flowing. I am not sure he is done with business."
Ray Paultre, executive director of the Florida Alliance, believes that Wade's popularity in the state could catapult him if decided to run for office.
"Dwyane Wade is a Florida legend, whose leadership past and present has a lot of folks in our state sending feelers out," Paultre said.
"We have seen former athletes, in both parties, bring something special to the political landscape," added Paultre. "He hasn't been officially approached, but he is on the list of four or five dream candidates to challenge Rick Scott."
My family would not be accepted or feel comfortable there," the Miami Heat icon explained. "That's another reason why I don't live in that state."
"A lot of people don't know that. I have to make decisions for my family, not just personal, individual decisions," Wade continued. "I mean, obviously, the tax [situation] is great. Having Wade County is great. But my family would not be accepted or feel comfortable there. And so that's one of the reasons why I don't live there."
Wade's 15-year-old daughter, Zaya, is a transgender model and activist.
Wade, Union, and all their children now live in Los Angeles.