Watch Kanye West Drag TF Out Of Nick Cannon And Drake In Explosive Rant
Bottom line? "Don't speak on my wife, bro..."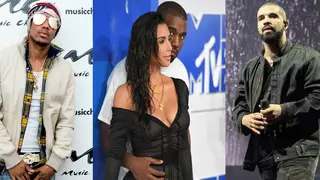 The old Kanye West seems to be making a slow, but definite, comeback. Aside from his rumored move back to his hometown of Chicago, Ye is now on Instagram to defend his wife, Kim Kardashian, after a plethora of "things that weren't sitting right with his spirit."
A few weeks ago, Nick Cannon was featured on Everyday Struggle and alluded that Drake smashing Kim, pre-Kanye, isn't a far-fetched concept. Once the clip went viral, Kim clapped back saying, "[this] never happened. End of story." 
Now, Ye felt the urge to confront all of these issues head on in a series of Instagram videos.

With a clear mind, fresh "out of the sunken place," Nick Cannon was up first. "I understand that you used to date my wife, but when she's brought up in an interview, say, 'I respect that man. I'm not speaking on that.' Don't be making no suggestions like somebody f**ked my wife."

When Drake was asked to step in front of the congregation, Ye once again brought up his situation with Pusha T.

Kanye did apologize to Drizzy over the diss track, but the fact that the Toronto emcee hasn't publicly denied the salacious rumor that he and Kim slept together isn't "sitting well" with Ye. "If I had a girlfriend from Chicago named Renita and then you married Rihanna, I wouldn't make no song called RiRi. So when you're like, 'I don't know where that comes from,' you too smart for that, bro."

He also addressed Drake being friends with Travis Scott, while namedropping Kylie and Kendall Jenner on records. "It's gon' be offensive since [Travis and Kylie] just had a baby... don't speak on nobody from my family and nothing that could be mentioned with my wife."

As far as Tyson Beckford goes, like the others, the sentiment is clear — do not speak on his wife. "Y'all be promoting all that negativity. Y'all think that sh*t is cool for social media."

"As men, all three of y'all come talk to me. We'll come to a resolution. Ain't like y'all gon' get on the phone, so this is how I had to [address my concerns]."

Twitter went into a frenzy and are so here for Ye defending his wife and family.

Others dubbed this as more bulls**t and would prefer to move on.

Post-rant, though, Kanye's sentiments about his wife seem to be true. They're "married, in love [and are] a family."