Willow Smith Reveals The Moment Her Life Transformed For The Better In 2020
Smith explains how she discovered her sense of womanhood on today's 'Red Table Talk.'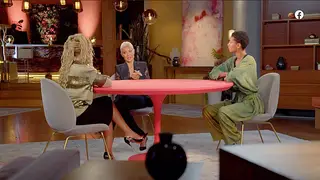 Willow Smith is no stranger to using art as a way to express herself, but the daughter of Will Smith and Jada Pinkett Smith recently revealed how participating in one event this year allowed her to transform in a major way.
Co-hosted by her mother and grandmother, Adrienne Banfield-Jones (aka Gammy), Willow explained during  the next episode of "Red Table Talk"  airing on Tuesday (Dec. 1) at 9am PT / 12pm ET on Facebook Watch that participating in Rihanna's SAVAGE X FENTY fashion show vol.2 for Amazon really changed her perspective on how she sees herself as a woman. 
"You've had some transformations this year, Ms. Willow," Pinkett-Smith says to her daughter at the top of the roundtable discussion. "You've really stepped into your womanhood this year. And you basically showed the world your transformation during your Fenty strut." 
"I walked in and the dancers are just like,  dancing and they're sweating and it's like, super hot and heavy. As soon as I got in there I was like, 'Oh, God… maybe I can't handle this. Maybe this is not my place,'" recalled Willow of her catwalk debut. Like many young women, Willow admits that those feelings of self-doubt "comes from my insecurity."
"But I put on the clothes and I looked at myself and I said, 'You're going to go out there and you're going to vibe it out,'" she added.
Willow admits that walking in the show helped her to conquer her insecurities and get more confident and comfortable in her skin. It's a sentiment shared by six other guests on the show who discuss their individual journeys to self-love through inspiring testimonies about getting healthy through weight loss. Combined, the six of them have lost a 1,000 pounds and viewers get to witness hope and resolution through their remarkable transformations.