Watch Shannon Sharpe Ether Mike Vick for Saying Colin Kaepernick Should 'Cut His Hair' to Get an NFL Job
"He needs to reform his image for what?"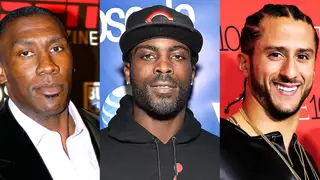 Kaepernick caught wind of Vick's remarks and posted this message on his Instagram account this morning.
Vick backtracked under pressure, attempting to clean up his statement with a tweet this morning as well.
But the damage from his original remarks had taken their toll and Shannon Sharpe, for one, wasn't trying to hear it at all.
The NFL Hall of Famer absolutely ethered Vick today for his terrible advice.
"No, [Vick] doesn't have a point," Sharpe said on FS1's Undisputed earlier today in response to Vick's comments about Kaepernick on the same network's Speak for Yourself program Monday. "What Michael Vick just did was continually perpetuate a stereotype that Blacks that look a certain way, dress a certain way should be judged a certain way. What does Colin Kaepernick's hair have to do with anything? He needs to reform his image for what?"
And Sharpe was just getting started.
"Some of the media and even Michael Vick has convinced himself that what Colin Kaepernick did by taking a knee was equal to, if not worse than what Michael Vick went to prison for," Sharpe continued. "Michael — you went to prison, you are a convicted felon. You needed to change your image. Colin Kaepernick took a knee. He took a knee in protest of Black and brown unarmed men and women being killed at a disproportionately high rate compared to the percentages to which they represent America. And the officers that were doing these killings were being held unaccountable for their actions."
Sharpe passionately added: "Stop perpetuating this stereotype, Michael Vick! My grandmother used to say, 'Boy, sometimes when people get to where they're going, they'll forget where they came from.' Michael Vick — you were a convicted felon. Someone gave you a second chance and you're saying that Colin Kaepernick needs to cut his hair to change his appearance ... For what!? He has never been arrested, he committed no crime, he killed no one, he abused no one. What is the image that he needs to portray?"
To watch Sharpe break it all down on Vick's comments about Kaepernick, click on the video below.
As Sharpe said, you would think that Vick, of all people, would understand the plight that Kaepernick is going through by having NFL teams stay away from him. When Vick was released from prison in 2009 for his involvement in a dog fighting ring, he, too, had to wait for an NFL franchise to take a chance on him.
We're glad that Sharpe was among the many who sacked Vick's original comments about Kaepernick's hair.
What did you think about Shannon Sharpe's comments on Undisputed?
BET Sports News — Get the latest news and information about African-Americans in sports, including weekly recaps, celebrity news and photos of your favorite Black athletes.