Tasha Smith's Ex-Husband Was Living a Secret Double Life
The details sound like a plotline from a Tyler Perry film.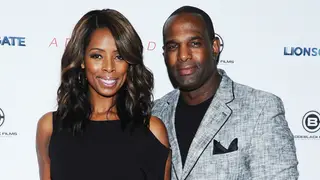 Tasha Smith's marriage is officially over — or rather, it's like it never happened — thanks to a judge who has granted the For Better or Worst star an annulment.
Smith's relationship with Keith Douglas (or, a the judge refers to him, Rory Douglas) went down in flames last year after the actress sought a restraining order against him and said she was worried he would try to kill her. Over the following months, stories came out about Douglas's abuse, embezzlement of Smith's money, infidelities and a bunch of other stuff that sounds more like a plot line from a Tyler Perry show than real life.
Well, turns out a judge agrees with Smith that Douglas isn't the guy she thought he was when she married him — literally. Apparently, he is also a fraud who had five other wives before Smith, and several children he never told Smith about, and all this while claiming to be a man of God.
According to TMZ, the judge says that Douglas also hasn't paid his taxes in nearly a decade and has a criminal record.
We're sure the memory of this awful marriage or painful divorce can't easily be erased from Smith's mind, but at least there will no longer be a paper trail. Watch the actress talk about her husband in happier times, below:
BET.com is your No. 1 source for Black celebrity news, photos, exclusive videos and all the latest in the world of hip hop and R&B music. 
(Photo: Ilya S. Savenok/Getty Images)