Ma$e Announces He's Signing To Death Row Records
The rapper said he's excited to get the Tupac thing rekindled.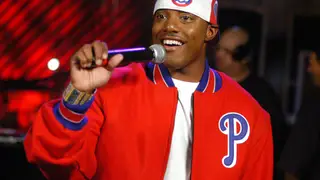 Ma$e, also known as Mason Durrell Betha, recently announced that he's joining Death Row Records.
Wednesday (August 3), the 46-year old took to instagram stating that he's in the process of signing a deal with Death Row Records. A label that formerly produced music for the legendary 2Pac.
"I'm on Crenshaw — just passed Pico, just passed Slauson — and I'm out here to meet with Snoop so I can do another joint venture with Death Row Records," the Harlem rapper says while riding across LA. "I'll be officially the first one signed to Bad Boy and Death Row. And we gon' get the 2Pac thing rekindled. Let's see where we go with that."
Ma$e used to work for Diddy's label, Bad Boy Records, from 1996 to 2012 releasing hits like "What You Want", and "Feel So Good". His album Harlem World went quadruple platinum during his career there.
HiphopDX reports that the possibility of the signing to the label would be a "historic moment" for both Bad Boy and Death Row in relation to their mid '90s rivalry that resulted in the deaths of 2Pac and The Notorious B.I.G.
The outlet believes that the choice to sign with Death Row may have been the MC's middle finger to Diddy, his ex-boss, after recently speaking on their now-sizzled relationship on the Million Dollaz Worth of Game podcast.
"I felt like I did more than I got credit for, more than I got paid for," Ma$e says, venting about his frustration and accusing Diddy for underpayment. "I never got paid what I was worth and I never got the respect I was worth. So the disdain is like, 'You're tryna keep me here, n-gga?' I'm not here. All my peers are up here. All my peers are bosses."
Although it looks like the situation between the pair may be the beginning of another Bad Boy and Death Row rivalry, Snoop Dogg, the new big boss of Death Row, has another plan.
In an interview with Drink Champs, Snoop Dogg revealed his plans of making an alliance with Diddy.
"We can show growth and progression that we can move forward," the "Drop It Like It's Hot" rapper states. "We can take this Bad Boy, Death Row, what it used to be, and make it a collaboration on peace and love. 'Cause that's who I am. I'm Suge and Puffy."
The Death Row Records deal has yet to be confirmed.