Morehouse School of Medicine Enters $100M Partnership To Invest In Black Doctors
The HBCU is working with CommonSpirit Health.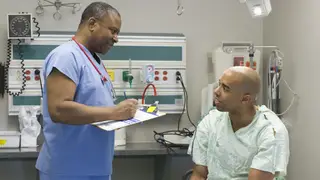 According to The Atlanta Journal-Constitution, the storied institution is teaming up with  CommonSpirit Health for a $100 million partnership to train more Black physicians.
Dr. Valerie Montgomery Rice president and dean of Morehouse School of Medicine, said in a statement, "Of the 21,863 students entering medical school in 2019, only 1,626 were Black — and only 619 were Black males. This statistic is alarming for many reasons, not the least of which is the impact of patient care. Studies show that Black patients have better outcomes when treated by Black doctors."
She also added, "We believe that educating and training more physicians who are underrepresented in medicine will not just have a positive impact on Black Americans and Black communities, but all communities. We are starting with a focus on Black physicians because of the disparity of the number of Black physicians ... has not moved significantly over the last 20 years and so we believe that this is an opportunity to do something and be able to measure the impact immediately."
Morehouse School of Medicine and CommonSpirit Health will reportedly create five new regional campuses and graduate educational medical programs in at least 10 markets. More information about the partnership will be announced in spring 2021.