Los Angeles City Council President's Racist Comments Lead To Her Resignation From Position And Calls For Her Removal
Nury Martinez compared her fellow councilmember's adopted Black son to a monkey and made other disparaging remarks.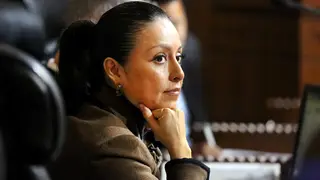 The Los Angeles City Council is embroiled in a firestorm of racial controversy after its president, Nury Martinez resigned as a result of an audio recording of racist comments surfacing.
According to audio released by The Los Angeles Times, Martinez, a Democrat and L.A.'s first Latina City Council President, made disparaging comments at an October 2021 meeting about redrawing council district boundaries. Martinez said that fellow Democratic Councilman Mike Bonin was using his Black son as an "accessory" and described him in Spanish as "ese changito," which translates to "that little monkey."
Martinez also referenced the child "bouncing around on a float" in a Martin Luther King Jr. Day parade: "They're raising him like a little white kid… I was like, this kid needs a beatdown. Let me take him around the corner and then I'll bring him back." The child's exact age is unknown but he appears to be eight years old, according to a Facebook post.
Councilman Bonin, who adopted his son with husband Sean, was not at the meeting.
Martinez's comments didn't stop there. She criticized Los Angeles County District Attorney George Gascón, who is Cuban, by saying, "F**k that guy… he's with the Blacks." In the recording, Martinez also mocked Indigenous people from the Mexican state of Oaxaca who had migrated to Los Angeles. She called them "ugly" and "short little dark people."
After the story went viral and protestors demonstrated outside of Martinez's home, on Oct. 10, she resigned as president and said in a statement: "I take responsibility for what I said and there are no excuses for those comments. I'm so sorry. As someone who believes deeply in the empowerment of communities of color, I recognize my comments undercut that goal." While Nury Martinez is no longer president, she remains in her City Council seat.

It is not clear who made the recording or leaked it, according to CBS Los Angeles.
There were three others at the meeting, Democratic members of the council Gil Cedillo and Kevin De León, and labor leader Ron Herrera. De León reportedly said Bonin was the council's "fourth Black member" and "Mike Bonin won't f***ing ever say peep about Latinos. He'll never say a f**ing word about us."
De León issued an apology, but has not stepped down. Herrera apologized and resigned. Cedillo said he had no recollection of the conversation, The Los Angeles Times reports.
On Monday (Oct. 10), Bonin wrote on Twitter: "Still trying to process the past 2 days, but I know people are jockeying for council prez. My thoughts: We shouldn't vote for anyone who didn't call for resignations. And if they refuse to resign, anyone elected with those 3 votes is associating themselves with this disgrace."


Karen Bass, who is running for mayor of Los Angeles against Rick Caruso, issued a statement that read, in part: "Let me be clear about what was on those tapes: appalling, anti-Black racism.... The challenges we face already threaten to tear us apart and, now, this hateful and shocking conversation among some of our city's most powerful leaders could divide us even further."
It's unknown who and how the recording of the private meeting was leaked.