Mike Tyson Can Relate to Ronda Rousey's Suicidal Thoughts
Boxing legend says he had bad ideas after a win.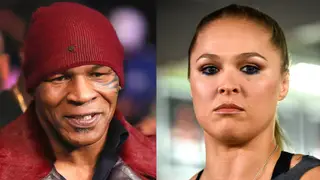 If there's anyone who could relate to the highs and lows of fighting, it's Mike Tyson.
During his legendary boxing career, the "Baddest Man on the Planet" experienced everything from being crowned the youngest heavyweight champion in the sport's history at 20 years old to being a shadow of his former self upon returning to the ring after serving three years in prison and suffering through substance abuse and financial losses.
Through it all, "Iron" Mike is still standing strong and he thinks that former UFC champ Ronda Rousey is more than capable of bouncing back from her brutal November 2015 loss to Holly Holm, too.
That might be why Tyson related to Rousey saying she contemplated suicide after suffering her first loss.
"I had bad thoughts after a win," Tyson told TMZ Sports on Tuesday.
"Honestly, my thought, I was like, in the medical room and I was down in the corner. I was sitting in the corner like, 'What am I anymore if I'm not this?'" Rousey said on the show. "And I was literally sitting there and thinking about killing myself and that exact second...I'm like, 'I'm nothing. What do I do anymore and no one gives a s**t about me anymore without this.'"
Tyson dismissed the raw emotion as a "moment in time," adding that "she doesn't feel that way now."
He additionally said that "everybody has a bad day in the office" and that "she just needs to come back, eventually."
Although Tyson offered his services to sharpen Rousey's boxing skills for her eventual rematch against Holm, he said he doesn't think Ronda needs his help.
She might want to take Tyson up on that, though, especially since Holm cracked her jaw in their first Octagon meeting.
BET Sports News — Get the latest news and information about African-Americans in sports, including weekly recaps, celebrity news and photos of your favorite Black athletes.
(Photos from left: Mike Stobe/Getty Images, Frazer Harrison/Getty Images)