What If Eddie Murphy Was The Black Panther?
Funny Or Die gave us our answer.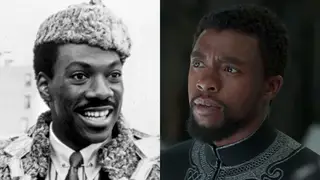 The world is highly anticipating Chadwick Boseman bringing Marvel's Black Panther to life on the big screen, but what if the title role was played by Eddie Murphy Coming to America style?
The folks at Funny or Die put together a genius trailer for this "reimagined" Black Panther premise, featuring merged scenes from the superhero flick and Murphy's 1988 comedy classic. While it may seem bizarre in writing, it works much better than one would think.
Just think about it — both Prince Akeem and T'Challa are royalty, so it makes sense on that front, at least.
Prince Akeem isn't the only Coming to America character showing out in the trailer. Semmi's (Arsenio Hall) duel with Akeem also perfectly brings together the larger sequences while Akeem does random backflips here and there.
Don't believe us when we say this is comedy gold? Take a look for yourself below:
Marvel's Black Panther hits theaters on February 16, 2018.
Get more news on the highly anticipated flick with BET Breaks above.