The Internet Is Dragging Kim Zolciak-Biermann For Flaunting Her Daughter's Matching Lip Injections
The reality star has Twitter asking, clones or nah?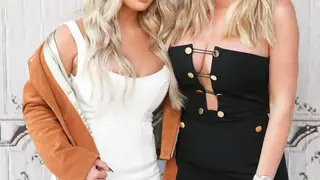 It's no secret that Kim Zolciak-Biermann is a fan of plastic surgery. In fact, neither is her daughter, Brielle Biermann, who reportedly got lip injections as a teenager with her mother by her side.
Recently, the 40-year-old former RHOA reality star took to Instagram to show off a photo of herself twinning with her two oldest daughters, Ariana and Brielle Biermann, and the internet is undefeated! 
Captioning the photo "The Biermann Babes," fans could not help but notice how much 16-year-old Ariana and 21-year-old Brielle looked like their mother — everything from their long and wavy blonde hair to their large pouts. 
It has yet to be confirmed if rumors of Ariana getting her lips done were true, but fans instantly began calling Kim out for making her daughters "clones."